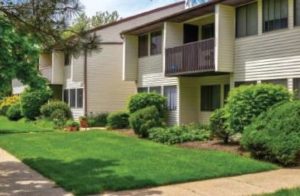 Elisheva Braun
Bike paths and lakes wend their way through the grassy landscape of Twin Rivers, and brightly colored slides loop through the many parks that inhabit the neighborhood where mid-sized suburban homes rest on quiet streets. Although it may feel like a separate planet, Twin Rivers—a development in East Windsor, New Jersey—is a mere half hour away from Lakewood's bustling activity. The tight-knit community is home to dozens of frum and growing families. Here's how it all started.
Twin Rivers, then and now
Three decades ago, Twin Rivers—then mainly farmland—was developed as a suburban neighborhood of East Windsor. The population consisted mostly of unaffiliated Jews, and the Twin Rivers Shalom Torah Centers was established to provide the community with a Hebrew school, a day school, a nursery, and eventually, a shul.
"When I came in 1989, there was a kiruv program already in place," says Rabbi Aaron Gruman, current rav of the Toras Emes shul of Twin Rivers. "Since everyone was on a different level of learning, it was hard to give a communal shiur. Rabbi Eli Gewirtz, my predecessor, had Lakewood yungerleit travel here to learn one-on-one with the people of Twin Rivers in what was known as the Tuesday Night Learning Program."
Incidentally, Rabbi Gewirtz went on to form the national program Partners in Torah after witnessing the success of this earlier initiative.
Rabbi Gruman expanded the existing outreach program, bringing numerous men and women in from Lakewood each week and offering shiurim as well as chavrusas. Today, Twin Rivers's infrastructure includes a shul with about 60 diverse families as well as an eiruv, a mikvah, and even a night kollel.
"It's very rewarding to lead the Twin Rivers community," Rabbi Gruman shares. "My position here is a unique one, because aside from the standard questions every rabbi receives, I handle situations that are unique to a kiruv community. In a recent example, during Covid, I helped many older adults make Pesach for the first time."
The Shalom Heritage Center, an offshoot of Shalom Torah Centers directed by Rabbi and Mrs. Sruli Nadoff, serves as a connection point for those who live in Twin Rivers and its surrounding areas.
"We offer people the opportunity to deepen their connection to Hashem," Mrs. Nadoff explains. "We believe that sharing Yiddishkeit through positive experiences penetrates people's hearts. We run activities, Shabbosim, and programs to provide a hands-on experience of Jewish living. We also host events before and during each Yom Tov so families on their Jewish journey can bring the Yom Tov atmosphere into their homes."
Mrs. Nadoff clarifies that much of Shalom's outreach work is aimed at the areas surrounding Twin Rivers. "When the Twin Rivers locals participate, it really supports the work we do. They act as a bridge of connection with the other participants."
In town with an out-of-town feel
"Here in Twin Rivers, there is no pressure to own the latest gadget, the fanciest car, or the most up-to-date clothes," Rabbi Gruman says. "Life in Twin Rivers is simpler; you won't see any meat boards here.
"Even though the people are each growing at a different pace, the kehillah is very cohesive and warm. If you are looking for the rewarding aspects of kehillah life, for the sense of community and the feeling that you're a part of a unit, Twin Rivers is the place for you. Here, every person makes a difference. Every good deed is magnified, not only because of the smallness and cohesiveness of the community, but because of its growing atmosphere."
The Caplans, former residents of Westgate in Lakewood, relocated to Twin Rivers a couple of years ago. Mrs. Bracha Caplan feels grateful to have made the move. She describes her new community as a welcoming, friendly place. "When I had a baby, I was warmed and moved by how excited my neighbors were for me and how eager they were to help.
"Life here has an out-of-town feel. The area is nice and green, with lots of grass, parks, and walkways."
Speaking of the low-pressure culture of Twin Rivers, she adds, "I keep saying, if we moved here just for the neighbors we have, it would have been worth it. There's no judgement or pressure here. It's a wonderful place to live; I feel like I'm living out of town. At the same time, I have access to all of Lakewood's schools and shops, so I'm not losing out in any way. Additionally, we have a Shoprite with a Kosher Experience five minutes away as well as many large chain stores such as Walmart and Home Depot."
In addition to running the Shalom Center, Mrs. Bassie Nadoff has been raising her children in Twin Rivers for 25 years. She calls Twin Rivers "New Jersey's best-kept secret."
"The area is safe and beautiful, the neighbors are wonderful, and life here is peaceful and wholesome. The Twin Rivers shul is warm; everyone who comes in is greeted and valued. The families often invite each other for Shabbos meals, and our rav has a relationship with every member. We get to enjoy the perks of living out of town without the drawbacks. We don't compromise on chinuch; we send our kids to Lakewood schools. Driving our kids to school provides quality time to talk and connect, so the commute feels more like a pro than a con."
Mrs. Nadoff shares the mindset differences that come along with living in Twin Rivers. "When Yom Tov season arrives, I don't stress about fancy tablecloths and intricate dishes. Instead, I focus on whom we can share the experience with. The kids get involved, and they feel a sense of purpose and meaning. Additionally, my children are very self-assured thanks to their Twin Rivers upbringing. They don't care how shiny their bikes are or how perfect they look; their confidence comes from within."
Not for everyone
On the other hand,"The closest slice of kosher pizza is a fifteen-minute drive away," Rabbi Gruman says when asked about the cons of Twin Rivers life.
On a serious note, he says that the small-town lifestyle is a boon for some and a drawback for others. Having one shul and fewer community members doesn't feel like a benefit to everyone.
For Mrs. Caplan, the hardest part of her new life is having to drive her kids to school. She is quick to add, though, "We have a carpool with other families here, which makes it much easier. Also, people are happy to fill in and give rides when needed. The forty-minute drive can get challenging; however, when we lived in Lakewood, my kids would sit on the bus for an hour. At least this way, they're spending time with a parent instead of a bus driver."
A solution to the housing crisis?
As families are priced out of Lakewood and its surroundings, an opportunity for affordable housing opens up in Twin Rivers.
Chezky Klein of Four Points Realty shares another one of Twin Rivers's greatest attractions: its housing prices. "Two-, three-, and four-bedroom townhouses sell for about $350,000," he says. "Detached homes—many of them with finished basements—usually go for under four-fifty."
Chezky notes that the Twin Rivers kollel offers an incentive program to help new families buy homes.
Warning potential buyers, though, Mrs. Caplan says, "The houses go quickly here, so I suggest you have everything lined up before you put in a bid for a home." She adds that members of the community are willing to help newcomers find a home to purchase.
The vision
Rabbi Gruman hopes that more frum families and bnei Torah will join the Twin Rivers community. For some, the move will help them develop into klei kodesh leadership roles.
He sums up, "The frum population is exploding, and we see Twin Rivers as a viable new opportunity for frum living. We'd love to see a group of families coming and strengthening the community. We always welcome families to come for a test-run Shabbos, if only to taste my wife's fantasticcholent."
Sidebar:
Twin Rivers travel
To the Verrazano Bridge: 48 minutes
To Newark airport: 38 minutes
To BMG: 32 minutes
To Lake Carasaljo: 37 minutes
To Gourmet Glatt North: 30 minutes
To NPGS Jackson: 27 minutes
Sidebar:
Twin Rivers in 10 seconds
Founded: 1969
East Windsor mayor: Janice Mironov
Shul: Toras Emes
Name origin: Twin Rivers is bordered by two waterways.
Distance to Lakewood: 22 miles
Nearby attractions: Connecticut Trolley Museum, Six Flags Great Adventure, Allaire State Park
Parks: Etra Lake Park, Dreyfus Park, Anker Park