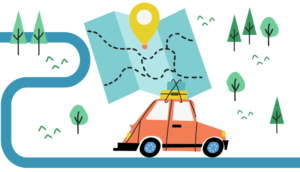 Shira Markovitch
Ahh…summer. There's nothing like it…until you hear, "Ma! I'm so booooored!" And then you groan and wish away the summer you were enjoying just moments before.
But no longer—and you won't need to dig into the recesses of your memory for those Bnos-leader days to find activities for your kids to do on those long summer afternoons. With this jam-packed activity schedule, you can now play head counselor without the stress of planning.
Easy? Check.
Inexpensive? Check.
Fun and creative? Double check!
This summer, create family memories that will last a lifetime.
Sunday, July 31, 3 Av
Bubble painting
Kids love blowing bubbles. They also love painting. Why not combine the two?
You will need:
Water
Cups
Dish soap
Tempera paint
Straws
Paper
Directions:
Mix ½ cup water with a generous squirt of dish soap and paint.
Using a straw, blow bubbles until you have a tower of colored bubbles.
Lay a sheet of paper over the top of the cup to create an imprint.
Repeat with as many colors as you'd like until you have a collage of bubble imprints.
Enjoy your artwork!
Monday, August 1, 4 Av
DIY pizza party
This activity is fun and easy, plus it doubles as dinner.
Make a batch of your favorite pizza dough recipe, or buy frozen pizza dough. Let your kids enjoy flattening the dough, spreading sauce (a jar of pizza sauce works fine), and picking their favorite toppings. Sprinkle on shredded cheese and bake at 400°F until cheese is melted and crust is browned. Bon appétit!
Tuesday, August 2, 5 Av
Backyard obstacle course
With minimal preparation, you can turn your backyard into a multistep obstacle course! Make it as easy or as challenging as you wish. Here are a few ideas:
Hurdles: Thread pool noodles through the backs of chairs and line up the raised noodles. Players have to jump over them. Alternatively, line up the noodles or sticks on the ground.
Ring jumps: Use pool rings or Hula-Hoops to create a ring jump. To get across, players have to step into each ring with one foot.
Toe the Line: Use masking tape to create a zigzag that players will have to follow (one foot in front of the other, toe to heel) to complete.
Don't Touch the Yarn: Tie string across two trees or anything stable in your yard, laser-tag style. Players will have to get through the maze without touching the string. Alternatively, tie the string between two chairs and players will crawl beneath without touching it.
Use anything you have in your backyard as part of the course: slides, swings, a kiddie pool etc.
Let the player or team who gets through in the shortest time win!
Wednesday, August 3, 6 Av
Nature hunt and craft
Leaf imprinting
Combine a classic nature hunt with an exciting craft. Get outdoors and challenge your kids to find leaves in as many shapes and sizes as they can. Then, place the leaves under pieces of paper and color on the papers in crayon. Let your children create nature-themed masterpieces as the leaves show up on the papers.
For added fun, get out some spare change for a variety of imprinting items.
Pet rocks
All kids wish they could have a pet. Even if your kids aren't animal lovers per se, they will definitely love these adorable pets.
Head outside and search for a variety of rocks: small, big, round, flat, oddly shaped, etc. Lay out some newspapers, and using tempera paint, paint your rocks as animals, characters, or anything at all. After your creative creatures have dried, finish off the look with googly eyes. Voilà! You are now the proud owner of the most low-maintenance pets that will ever set foot in your home. Don't forget to give them names!
Thursday, August 4, 7 Av
Dining room theater
Transform your dining room into a puppet theater. Decorate wooden spoons (you can pick some up from Dollar Tree) with markers, stickers, googly eyes and paper cutouts. Give your characters names and make up a story line.
Lay a tablecloth on your table with one end all the way to the floor to hide your amateur puppeteers. Then, it's showtime! Watch a spectacular puppet performance over your dining room table.
Sunday, August 7, 10 Av, Tishah B'Av
Bring meaning to the day for your children with these enjoyable activities that have a lesson snuck in.
Make your own Kosel
Turn your living room wall into a facade of the Kosel by hanging sheets of brown construction paper. Crumple green paper to create the greenery in the cracks of the stones. Take the opportunity to tell your children about the destruction of the Beis Hamikdash and the significance of the Kosel, and daven together for it to be rebuilt.
Thank You Hashem poster
Decorate a poster with all the things your family feels grateful for. Hang it on the wall as a constant reminder of all the blessings in your life.
Teach the importance of working together with these fun team-building games:
Blind Trust: One player is blindfolded and directed to a predetermined destination by the other players. Only verbal instructions may be used.
Electric Fence: The goal of the game is to have all the players pass a fence holding hands—without touching it. Tie a string between two chairs, about 2–3 feet above the ground (this depends on the height of your players). The players may go either under or over the string, but they should make sure not to touch it.
Monday, August 8, 11 Av
DIY kite
While you can always just go and buy a kite, there's nothing like flying a kite you made yourself!
You will need:
2 sheets hard paper in 2 different colors
Pencil
Stapler
Scissors
String
Directions:
Fold 1 sheet of paper in half along the short side. Lay it down with the fold on bottom and opening on top.
Using a pencil, mark a quarter point on the fold and a halfway point.
Turn the flaps of one corner outward until each corner reaches the quarter point on its side. Staple the corners down about ½ inch above the fold (one staple for both sides). You should now have a shape similar to that of a paper airplane.
Staple the paper on the halfway point, about ½ inch above the fold.
Thread the string through the staple (at the halfway point) and tie it. Leave a few feet of string hanging on one side.
Use the other paper to create a thin tail for the kite. Staple it to the other corner (not the one with the quarter point).
Head outside and test your kite in the wind!
Tuesday, August 9, 12 Av
It's trip day!
Head to your favorite park for a day filled with sunshine and fun. Any park will be enjoyable, but novelty is always exciting. Try someplace new: Allaire State Park (4265 Atlantic Avenue, Wall Township), Turkey Swamp Park (200 Georgia Road, Freehold), or even Ocean County Park if you've never taken your children there. Bring along a picnic blanket and bite-sized treats (lunch, perhaps?) as well as Frisbees, balls, and/or chalk.
Wednesday, August 10, 13 Av
Giant water blob
Perfect for a hot day, this water blob is cool to the touch and sensory all the way.
You will need:
Plastic sheeting at least 3 millimeters thick (10 x 25 feet should work)
Parchment paper
Iron
Food coloring (optional)
Glitter (optional)
Water hose
Duct tape
Directions:
Fold the plastic sheet in half. Put parchment paper under and over the plastic and iron the edges in segments to seal it, making sure not to get any plastic on the iron. Let each segment cool before continuing onto the next one. Leave 2 inches not ironed for the hose.
Bring the plastic outdoors. Pour food coloring and glitter into the hole, if using. Insert hose and fill.
When filled with water, use duct tape to seal it off. If the blob leaks during play, use duct tape to reseal.
Enjoy lying, walking, bouncing, and playing on your homemade giant water blob!
Thursday, August 11, 14 Av
Creative concerto
Turn items that you have around your house into musical instruments. Fill containers (glass or plastic) with beans, beads, rice, and the like for homemade tambourines/shakers. Get out your pots, pans, and wooden spoons to create a makeshift drum set. Fill glass cups with water at different levels (color with drops of food coloring for added fun), and tap with a spoon for a water xylophone.
Challenge your kids to a living room concert! And of course, your family band should have vocals. Don't forget to grab your camera!
Sunday, August 14, 17 Av
It's trip day!
Give your kids a history lesson they won't forget by taking them to the Vintage Automobile Museum of New Jersey in Point Pleasant. This free attraction is open on Fridays and Sundays from 12–4 p.m. and is sure to delight little and big boys alike.
Address: 1800 Bay Avenue, building 13, Point Pleasant, NJ 08742.
Phone number: 732-899-0012
If old cars aren't your thing, head around the corner and check out another educational museum: the New Jersey Museum of Boating. This museum is also free and is open Wednesday through Sunday from 12–4 p.m.
Address: 1800 Bay Avenue, building 13, Point Pleasant, NJ 08742
Phone number: 732-701-2581
Feeling bold? Pack your day by visiting both museums back-to-back!
Monday, August 15, 18 Av
Edible cookie dough bar
Do your kids want to eat the dough whenever you make cookies? With this recipe, they can make the dough and eat it too!
You will need:
Dough:
2 cups flour
1 cup brown sugar
¼ cup sugar
1 cup margarine, at room temperature
2½ teaspoons vanilla extract
1 teaspoon salt
2 tablespoon milk, pareve milk, or water, plus more if needed
Toppings:
Mini chocolate chips
Crushed cookies
Mini chocolate lentils
Sprinkles
Directions:
Make your flour safe to eat raw by putting it in a microwave on high for 50–60 seconds.
Cream sugars and margarine until light and fluffy, about 1 minute. Add vanilla and salt.
Beat in flour until just combined. Add milk 1 tablespoon at a time and beat until dough starts to come together.
Set up an array of toppings to mix in and enjoy!
Tuesday, August 16, 19 Av
Camp at home
There's no need to travel far to experience the joys of camping. Pitch a tent in your yard or living room; if you don't have one, a sheet draped over two chairs will do the trick just as well. Grab as many cozy pillows and blankets as you can and shut the lights. Tell spooky stories, lead a kumzitz, fish in the tub (cut out paper fish for this one), stargaze, and roast marshmallows over the gas burner in your kitchen. Don't forget the bug spray!
Wednesday, August 17, 20 Av
Microwave puffy paint
Take painting to a whole new level while exercising fine motor skills. Your kids will love watching their works of art puff up and grow in the microwave.
You will need:
1 cup flour
3 teaspoons baking powder
1 teaspoon salt
Water
Ziploc bags
Food coloring
Rubber bands
Paper
Directions:
Combine flour, baking powder, salt, and enough water so it reaches a pancake-batter consistency.
Divide into Ziploc bags and color each bag with food coloring (let your kids squish the bag around to distribute the color evenly).
Tie a rubber band around the top of each bag and cut off a small bit of the tip. Pipe the paint onto paper.
Stick the paper into the microwave for 30–45 seconds and watch the paint puff up!
The best part: there are no wet paintings to leave out to dry.
Thursday, August 18, 21 Av
ABC hunt
Challenge your children to collect items around the house starting with each letter of the alphabet. To make it more challenging, institute rules such as "all the items must fit in a shopping bag" or time the hunt. You can also divide your brood into two teams and have a race.
Don't limit yourself to the ABCs; you can also spell out an item or family member's name, look for items that begin with the first letter of the name of every member of your family, etc.
Alternatively, if you don't want to referee a cleanup, give your kids a camera and have them take photos of all the items.
Sunday, August 21, 24 Av
Jell-O pool
What's way more fun than playing in a pool filled with water? Playing in a pool filled with…Jell-O!
This activity is creative and sensory friendly but requires a bit of preparation.
A few hours before you'd like to start, make as much Jell-O as you can. The more you manage to make, the more fun it will be. Use different flavors for added fun.
When you're ready to start, pour the Jell-O into the pool and watch the action begin! Provide cups, colanders, ladles, and the like for your little ones to play with in the Jell-O pool.
Tip: When making your Jell-O, use 1 cup hot water to dissolve the powder, and then add 1 cup cold water so your Jell-O will harden faster.
Note: You will not have enough Jell-O to fill the pool; the pool will only serve as a place to contain whatever Jell-O you prepare.
Monday, August 22, 25 Av
Life-size board games
Take your kids' favorite board games up a notch by making them life-size! Here are a few ideas to get you started:
Bananagrams: Write the alphabet on hard paper, one letter per page. Head out to the yard to see what your board looks like enlarged!
Connect Four: Paper plates are the perfect tokens for a life-size Connect Four game. Use masking tape to create a giant table with seven columns and six rows. Use paper plates in two different colors to play. You can also draw the board on a plastic tablecloth and hang it on a wall for a vertical version.
Human Ring Toss: Use swimming rings or Hula-Hoops as the rings and let your kids be the poles! Players should stand a few feet away from the "pole" and gently toss the ring onto them. The first to stack all the rings on their teammate wins!
Tuesday, August 23, 26 Av
Tie-dye squirt gun fight
This energy-releasing activity checks all the boxes: fun, messy, and interactive, and you even come out with a souvenir!
You will need:
Cups
Water
Acrylic paint
A white T-shirt for every child (or any light-colored shirt that you don't mind getting rid of)
Squirt guns
Directions:
In a cup, mix 1 tablespoon acrylic paint with 8 oz. water. Repeat with as many colors as you like.
Get outdoors, fill the squirt guns, and watch those white shirts become colorful masterpieces.
Tips:
Make sure your kids are wearing clothes and shoes that you don't mind getting dirty or stained.
Bigger water guns with a pump work best, as they are easiest to fill. If using those, fill paint buckets with paint-water and place them strategically around the yard for easy refills.
You may need to institute a "no faces" rule.
Divide your kids into two teams with team colors for added fun.
Wednesday, August 24, 27 Av
It's trip day!
End off the summer with a bang by taking your kids to one of these age-appropriate play areas:
If you have younger kids (age six and below), Just Play! Indoor Playground, an indoor play area, is a great place to let out any leftover energy after a fun-filled summer. Admission is $15 per child and it is open on Monday through Friday from 12–5:30 p.m. and on Sunday from 9 a.m.–6 p.m. Call ahead to book or reserve online.
Address: 1610 NJ-35, Orchard Plaza, suite 3, Oakhurst, NJ 07755
Phone number: 732-509-7600
If you have bigger kids, head over to Climb Zone in Howell, NJ, for climbing walls, toddler soft play, arcades, and more. Admission ranges from $12–$35. They are open Wednesday–Sunday from about 12–7 p.m. (changes depending on the day). Reservations are not needed.
Address: 5369 US-9, Howell Township, NJ 07731
Phone number: 732-813-8300
Thursday, August 25, 28 Av
End-of-summer memory board
Create this innovative keepsake to showcase all the memories you've created together. Using markers, ribbons, stickers, paper cutouts, and printed photos, personalize a corkboard to display your summer fun (Dollar Tree sells an 11-inch by 8-inch adhesive corkboard. Alternatively, you can decorate a poster or scrapbook). Make one as a family, or let each child make their own. As you cut and paste together, reflect on the summer and what you enjoyed the most.
Have a great year!