Crock-Pot Shawarma and Eggplant Boats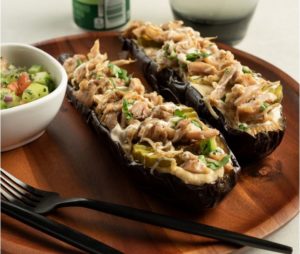 Recipe by Odaiah Leeds
Styling by Atara Schechter
Photography by Ruby Studios
This shawarma recipe is a go-to in my house. The eggplant boats are great for the adults or anyone else who's looking for a healthy twist.
Yield: 4–6 servings
Ingredients:
¼ cup avocado or olive oil plus more for brushing
3–4 tablespoons shawarma spice
1 teaspoon salt plus more for drizzling
1 onion, sliced
1 package baby chicken
2–3 eggplants, sliced in half lengthwise
Chummus
Israeli salad
Israeli pickles
Techinah
Directions:
In a small bowl, combine ¼ cup oil and spices to create a paste.
Place sliced onions and chicken in the Crock-Pot and coat with the spice paste.
Cook on high for 2–3 hours. Lower temperature and continue cooking until shortly before ready to serve.
Remove chicken from Crock-Pot and shred using 2 forks.
Line a baking sheet with parchment paper.
Brush both sides of eggplant slices with oil. Sprinkle with salt and place skin-side up on baking sheet.
Bake at 375°F for 20–30 minutes, until eggplants are golden brown.
To assemble: Place a slice of eggplant skin-side down on a serving dish. Spread on prepared chummus. Place shawarma over the chummus. Top with Israeli salad, Israeli pickles, and a drizzle of techinah. Repeat with remaining eggplant slices.