Dreidel-Shaped Cookie Cake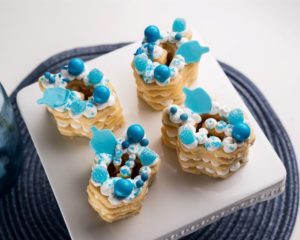 Recipe by Faigy Stein
Styling by Miriam Cohen
Photography by Ruby Studios
This festive and fun dreidel-shaped cake will bring joy to your Chanukah table. The beauty of this adorable cookie cake is that you can customize the shape, size, and toppings according to your party's color scheme—in other words, make your own "spin" on this recipe. You can also make it in mini. A fun idea is to make mini cookie cakes and allow your guests to top them with assorted toppings. Have a freilechen Chanukah!
Ingredients:
Dough:
4 cups flour
2 sticks margarine
1¼ cups sugar
2 eggs
½ teaspoon salt
1 teaspoon baking powder
1 tablespoon vanilla sugar
¼ cup orange juice
Custard cream:
1 16-oz. container whip topping
1 12-oz. container custard cream (I used Muzon)
Toppings:
Blue gumballs
Blue sugar crystals
Blue sprinkles
Blue gumdrops
Blue chocolate dreidel (see directions below)
Directions:
In the bowl of an electric mixer fitted with a dough hook, mix flour and margarine. Add sugar and eggs. Add the rest of the dough ingredients and mix until a smooth dough forms.
Roll dough between 2 sheets of parchment papers (to prevent the dough from getting oily).
Using a cookie cutter, cut shapes.
Bake at 350°F for 15 minutes.
Beat whip topping until stiff. Add custard cream and beat quickly until combined. Do not overbeat.
(If you prefer plain whip, you can add 1 cup confectioners' sugar and ½ package instant vanilla pudding to the whip to sweeten it.)
To assemble:
Fill a pastry bag fitted with a large tip (or a Ziploc bag with a hole snipped on the corner) with custard filling/whip. Pipe dots onto a cookie, covering the entire cookie.
Place another cookie on top and pipe dots to cover the cookie.
Place another cookie on top and repeat.
Pick a cookie for your topper to decorate. You will need to decorate it before you place it on top. Decorate with assorted toppings and place on top.
To create the dreidel chocolates shown, spread melted blue chocolate onto a plastic plate and allow to harden. Right before the chocolate sets, use a cookie cutter to create a chocolate dreidel. Place the plate in the refrigerator for 2 minutes before removing the dreidel-shaped chocolate.