Fiery Batter-Dipped Fish Bites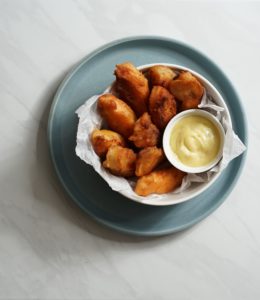 Kid friendly and adult friendly—this one's a real keeper.

Yield: 4 servings
Ingredients:
Fish:
1 ¼ cups flour
6 tablespoons water
¼ cup oil
2 tablespoons sriracha sauce
2 tablespoons sugar
1 teaspoon salt
4 tilapia fillets, skinned
Oil for frying
Dipping sauce:
5 tablespoons mayonnaise
1 tablespoon honey
2 teaspoons mustard
Pepper to taste
Directions:
In a medium-sized bowl, whisk together flour, water, oil, sriracha sauce, sugar, and salt.
Cut fillets into nuggets and stir into the batter until fully coated.
In a large skillet, heat ¼ inch oil. Fry fish for 2–3 minutes on each side, until golden brown. Drain excess oil.
In a small bowl, whisk together dipping sauce ingredients. Serve alongside fish.