Garlic Battered Nuggets with Sweet Orange Dipping Sauce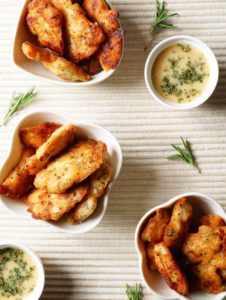 Recipe, styling, and photography by Mirel Freylich
With their intense flavor, these nuggets are sure to be a hit!
Yield: 4 servings
Ingredients:
Nuggets:
¾ cup flour
½ teaspoon baking powder
½ cup water
1 tablespoon sugar
6 frozen garlic cubes
2 teaspoons basil
2 lbs. chicken nuggets
Oil for frying
Dipping sauce:
¼ cup mayonnaise
2 tablespoons brown sugar
1 tablespoon orange juice
1 teaspoon lemon juice
Directions:
In a medium-sized mixing bowl, stir flour, baking powder, water, sugar, garlic, and basil, adding to the bowl one at a time, in order.
Mix nuggets into batter with a spoon.
In a large skillet, heat 1/8 inch of oil. Fry nuggets for 4–5 minutes on each side, until golden brown. Drain oil.
In a small bowl, whisk together sauce ingredients. Serve with nuggets.