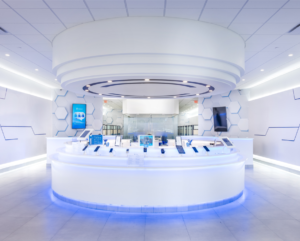 One-Stop Technology Shop
Q&A with Levi Kohn, Store Manager of the GenTech Technology Center
I purchased my last phone at Walmart and got a filter. It served me pretty well. What is the advantage of having everything under one roof?
When you buy a phone from Walmart or any other store, you must make many stops until you have your final product. Your phone will go through the hands of a service provider and a filtering company before it's ready for use. Eventually, when an app or service stops working, you're stumped. Do you go back to Walmart? Verizon? The filtering company?
The GenTech Technology Center solves this issue. We help you select the phone, give you the service, install the filter, and ensure that everything goes smoothly.
Your center is huge. What made you bring all these companies together?
Customers were constantly asking, "What is the safest music device for my son?" or "I need a computer with a filter for just a few hours" and "Is there a place where my wife and I can do online shopping together?" We took our customers' requests and tried to bring them all together.
GenTech
If GenTech offers 24-hour remote support, why is a physical location necessary? What would pull me to the store if I can get in touch with a customer support representative online?
Locating an issue is always simpler and faster when the agent is physically on-site. Over the past few months, several agents were able to familiarize themselves with customers' specific needs because they were constantly stopping by.
Some technicians will even go the extra mile and visit customers' homes after hours to take care of their technology needs.
What are the benefits of installing a filter in the store?
Often, there are physical issues that cannot be seen remotely. At our store, our agents will be able to see everything on your device and make sure it's running properly before they even install the filter.
I'm considering using the GenTech filter for my office computers and devices. I'm overwhelmed with work and am happy to get the filtering done remotely. How much would I gain if I came down to the store?
You'll experience the real feel. The store is equipped with many computers and devices; once here, you'll get to see, test, and experience how it will actually be once the filters are installed in your own office.
Computer World
Why should I buy my computer at GenTech verses Amazon or Best Buy?
If you're not an expert, you don't know what to buy. Come in to our center and our team of expert technicians will be happy to guide you toward making a smart purchase. We'll then install the software, antivirus, programs, and filter. You can buy your computer and have it ready for use that same day. No need to wait for delivery, and you get to test your device on the spot for compatibility and perfect workability. Best of all, our prices match online prices.
Kosher phones
What's the difference between a kosher phone and having my device filtered?
If you're buying a preset phone, there is no way to modify or change it—within certain boundaries, of course. You could feel safe to use your device at home and not worry about sending a phone along with your child.
I'm the owner of a heimishe car service. I want my drivers to have phones with Waze but without any other distracting apps. Am I being realistic?
Absolutely. We provide many devices to be used for specific needs. Zoom-only and Waze-only plans are very common.
ICube
Do I need to make a reservation to use the kiosks?
There is no need to reserve a spot in advance. Fill up your kiosk card and simply swipe to unlock a computer whenever you need it.
Can I come with a friend or my wife?
Yes. Every cubicle has room for at least two people and is closed off for maximum privacy.
Is it possible to conduct a Zoom meeting or watch lectures in the cubicles?
Cubicles are equipped with all the modern amenities a work station requires, including earphones.
I heard that one can host business meetings in ICube's conference room. If the place is always teeming with people, where do the meetings happen?
The conference room is fully frosted and soundproof.
Besides a spacious room, what else do you offer for meetings?
The conference room is fully equipped to host business events and meetings. You can connect your own laptop to our large screen or choose to use our computers. Additionally, you can enjoy the conveniences of parking and fresh food delivered from nearby stores.
Cellular Israel
An Israeli phone rental company in Lakewood? Why can't I just get my phone there when I land?
Traveling is always more relaxed when you know you'll be connected as soon as you land; it's one less thing to be busy with upon arrival. And there is no need to rush to pick it up or drop it off in Israel. Have it with you before departure, bring it back with you, and return it at your own pace.
Can my seminary daughter set up her phone plan here so she can call me as soon as she lands?
Yes! We have many options for long- and short-term phone rentals and purchases. We help seminary girls choose a plan that makes the most sense for them and teach them how to dial properly (001, 017, 00…) their worried parents.
Loadio
I wish I could share my wedding video with my family and friends, but the files are too large to upload and download.
Let your family members know that they can get your wedding or music video downloaded here for a minimal fee.
We just finished an eight-week series of interactive speeches with our rosh yeshivah. We want to distribute the recorded speeches to our audience but prefer not to air it on public sites. Can you help with this?
Sure! We'll help you keep it intimate by sharing it with your private audience only. Tell your friends to come in and we'll happily download it for them.
Now, before Pesach, I want to get rid of my enormous stash of CDs. On one hand, I still want to hold onto them. On the other hand, they're taking up tons of space, and I hardly ever use a CD player. Any ideas?
Bring in your old CDs and we'll organize them for you on an mp3 or iPod. And while you're at it, if you have a specific subject you're interested in, we can load many different speeches for you.
Project trust
How do I deal with my teenager who insists on having his own unfiltered device?
Schedule an appointment with Rabbi Yossie Strickman, a technology adviser armed with knowledge to help people get back on track. The appointments are confidential, and you'll emerge with a clearer understanding of how to navigate the world of technology.
Geder
How is Geder different from GenTech?
GenTech's primary focus is on internet filtering. Geder does that too, but they also provide complete blocking for basic phones.
So if I need to block a phone I choose Geder, and if I need a filter I choose GenTech?
There are some more differences. Geder's remote support is done by Jewish people versus GenTech's support, which is done by our remote company. Additionally, with Geder, customers' settings are controlled by Geder's rabbinical board, while GenTech offers more wiggle room and control to the customer.
You seem to have explored every option and possibility and then brought it all together under one roof. Are there more surprises in store?
That depends on you! The GenTech Technology Center is one answer to myriad questions, requests, and feedback. We thrive on feedback, so really, if there's something else you'd like to see, let us know!