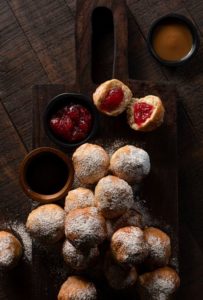 Recipe by Odaiah Leeds
Styling and photography by Chay Berger
These healthier beignets are made using spelt flour, are refined-sugar free, and are allergy friendly! They are delicious enough to make for the whole family without anyone feeling like they are missing out.
These donuts are best served hot and should be fried as needed. Serve as is, or elevate by serving alongside some fun dipping sauces. Some ideas: caramel sauce (from the chocolate chip sticks recipe), melted chocolate, or even some jelly or fruit sauce.
Yield: 4–5 dozen donuts
Ingredients:
Beignets:
0.25 oz. active dry yeast
3 tablespoons honey
⅓ cup warm water
1 cup non-dairy milk of choice (almond, coconut, oat)
¼ teaspoon salt
3 cups spelt flour
Avocado oil for frying
Confectioners' sugar:
1 cup coconut sugar
½ tablespoon arrowroot
Directions:
In a bowl, mix yeast, 1 tablespoon honey, and warm water. Let sit for 10 minutes.
Add remaining ingredients and mix.
Let dough rise for 1 hour.
In the bowl of a high-powered electric blender or food processor, blend together the coconut sugar and arrowroot. Set aside.
Prepare small balls and fry in avocado oil. Don't overcrowd the pot. Oil should be approximately 365–380°F degrees.
Roll the donuts in the "confectioners' sugar" as soon as they come out of the oil.
Place ready donuts on a cooling rack and serve immediately.
Tip: If you would like to fry donuts on more than one night but don't want to keep using up all that expensive avocado oil, strain the oil after using it and store it in an airtight container for another night.