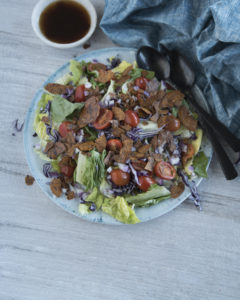 The famous Nish Nosh salad has been around for years and has become a staple in many homes (and even restaurants). I thought it was time to recreate it! My goal was to keep the same delicious taste but with more wholesome ingredients.
I kept this salad very similar to the original recipe that people have grown to love, but feel free to experiment and get creative. The dressing is great with just about anything—it can even be used as a chicken marinade! Plantain* chips or plantain croutons make the perfect Nish Nosh cracker alternative and can be used in any salad that you want to give a healthier crunch to.
Yield: 8 servings
Ingredients:
Salad:
3 Romaine hearts, chopped
½ bag purple cabbage
1 pint cherry or grape tomatoes, halved
½ red onion, thinly sliced
1 6-oz. bag plantain chips, crushed, or 1 5-oz. bag plantain crouton
Dressing:
1/3 cup olive or avocado oil
1/3 cup coconut aminos**
1 tablespoon Dijon mustard
1/8 teaspoon pepper
½ teaspoon salt
½ teaspoon garlic powder
1 tablespoon minced onion
*Plantains are savory bananas that make great chips. Heaven and Earth makes a crouton which can be found in local supermarkets. The chips or croutons can also be found at Trader Joe's.
**Coconut aminos is a savory seasoning sauce made from the fermented sap of coconut palm. It is soy free, gluten free, non-GMO, and MSG free and has some really great health benefits. The sugary liquid is similar in color and consistency to light soy sauce, making it an easy substitute in recipes. It can be found locally at NPGS, Gourmet Glatt, or Trader Joe's.