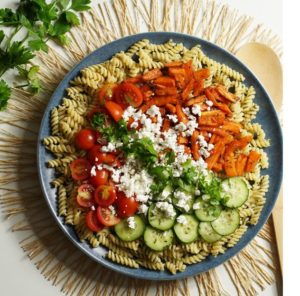 This salad is so full of goodness, I serve it as a whole meal. The secret is the abundance of feta cheese, which gives it its delicious flavor even more than the dressing
Yield: 2 large servings
Ingredients:
Salad:
1 large sweet potato, peeled and cubed
2 tablespoons olive oil
½ teaspoon salt
¼ teaspoon pepper
½ lb. pasta, cooked and drained
1/3 cup cherry tomatoes, halved
1 Kirby, thinly sliced
4 oz. feta cheese
Dressing:
6 tablespoons olive oil
¼ cup parsley flakes
2 tablespoons lemon juice
2 teaspoons basil
2 teaspoons honey
Salt to taste
Directions:
Preheat oven to 375°F. Line a baking sheet with parchment paper.
In a medium mixing bowl, toss sweet potato with oil, salt, and pepper. Spread onto baking sheet and bake for 15 minutes. Toss and bake for an additional 5 minutes.
In a small bowl, whisk together dressing ingredients until smooth.
Place pasta, sweet potato, cherry tomatoes, and cucumber in a large bowl. Crumble feta cheese over vegetables and pour in the dressing. Toss and serve.