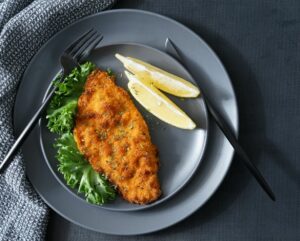 An easy but delicious chicken main
Yield: 3–4 servings
Ingredients:
1/3 cup mayonnaise
2 tablespoons mustard
1 tablespoon honey
2 cloves garlic, crushed
1.5 lbs. chicken breast, sliced thinly
1¼ cups cornflake crumbs
¼ teaspoon lemon pepper
¼ teaspoon garlic powder
¼ teaspoon parsley flakes
Oil spray
Directions:
Mix together mayonnaise, mustard, honey, and crushed garlic. Marinate chicken in the mixture for at least 30 minutes.
Combine cornflake crumbs with the spices and use to coat each chicken cutlet on both sides. Place cutlets in a single layer on a baking sheet and spray lightly with oil.
Bake at 425°F for 18 minutes. Alternatively, for crispier chicken, bake for 9 minutes, then flip over each piece and bake for another 10 minutes.