On The Front Line With Rabbi Avi Schnall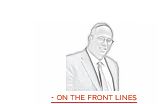 Jackson Hands Over Long-Withheld State Funds
Facilitated by Dina Steinberg
New Jersey State fully finances its public schools. For its many private schools, the state provides busing and special education services. These include tutoring, in-class support, and other forms of specialized assistance.
Nonpublic school students receive federal funding in the form of Title 1, Title 2, 3, and 4. The district in which the child resides is given the money from the government. If a student lives in Jackson and attends a Lakewood school, his school does not receive the funding; his home district gets the funds.
The federal funds go through the vendors: Catapult, Tender Touch, and Tree of Knowledge for Lakewood. Normally, the resident's town would give the money to the special ed vendor of the school the child attends.
However, Jackson flatly refused to do this.
Jackson uses different vendors and has stated that they cannot give the funds to a provider with which they are not in contract. They felt that their own tutoring companies were good enough and Jackson students should utilize them—a fact that, incidentally, is believed to be untrue.
The simplest answer would have been for Jackson Township to go into contract with the Lakewood vendors so they could pay them, while still using their own contractors for their public schools. However, our dealings with Jackson have been anything but simple, and the case for Jackson students' schools to receive special ed funding was no exception, dragging on and on for years.
Toms River, many of whose inhabitants attend Lakewood schools, experienced the same problem until they signed on with the Lakewood special education providers and paid them for their residents' services.
Many local schools were unable to swallow the cost of providing services for the two thousand Jackson students without compensation, and the expense—which is the state's duty to cover—fell on the parents.
So what happened to the money Jackson was given and didn't pass on for years?
The funding, when unused, goes back into the state's coffers. It was eventually redistributed to Jackson's public schools.
Parents, principals, and vendors all wrote letters to the state. The New Jersey branch of Agudah brought up numerous discussions at town and board meetings.
We were getting nowhere. We needed someone on the inside; a community member on the Jackson Board of Ed to put pressure on them. We needed a voice that they would have to listen to, that they couldn't ignore.
The Agudah went from neighborhood to neighborhood in Jackson, meeting with the rabbanim and explaining to them what we needed to do, gaining their help and support in encouraging people to vote. We went on a voter registration drive, educating each Jackson area on the Board of Education case and on the importance of voting. As a result, the voter registration and voter turnout were incredible.
Tzvi Herman won a seat on the Board of Education, making history as the first frum Jew to be elected as a board member in Jackson. As an official participant, he had the ability to reach out to directors and executives and put up a fight for our case.
To be clear, our goal was not and is not to take over the Jackson BOE nor to have a majority of representatives from our community elected. We simply needed to give our two thousand students a voice, to ensure that their needs were being taken seriously.
With Hashem's help we have now won the case, one year after Mr. Herman joined the Board of Ed.
As we begin the new school year, thousands of students will be able to receive the services they need without the crippling financial burden on their schools or families.
This case is a prime example of how integral it is to register to vote and then to go out and cast your ballot. The change we had the opportunity to effect is tremendous—and it hinges on each and every individual understanding a vote's value and caring enough to show up and vote.