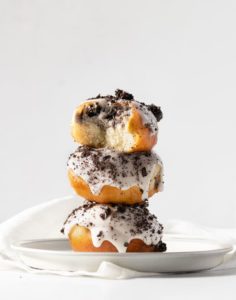 Recipe by Leah Leora
Styling and photography by Chay Berger
These quick bread (ready in under an hour) donuts filled with a delicious Oreo cheesecake filling and topped with an icing glaze and crushed Oreos may not make it to the table…
Yield: 8–10 servings
Ingredients:
Dough:
1 cup warm milk (place for around 1 minute in the microwave)
1 tablespoon dry yeast
2 tablespoons oil
1 tablespoon sugar
¾ teaspoon salt
2½ cups flour
3–4 cups oil for frying
Oreo cheesecake filling:
8 oz. cream cheese, softened
2/3 cup confectioners' sugar
1 teaspoon vanilla sugar
3 tablespoons heavy cream
4 Oreos, cream filling removed and finely crushed
Glaze:
1½ cups confectioners' sugar
1 teaspoon vanilla sugar
2–3 tablespoons milk
Garnish:
4 Oreos, crushed
Directions:
In a bowl, mix warm milk, yeast, oil, and sugar. Allow to rest for 5–10 minutes or until foamy.
In the bowl of an electric mixer with the dough hook attachment, mix salt and flour. Add yeast mixture and knead until a dough forms. Continue kneading for 5 minutes. If dough seems sticky, add more flour, a little at a time, until dough is smooth and workable.
Cover and let rise for 20–30 minutes.
While dough is rising, make the filling. (Note: Dough won't rise as high as in other recipes since it is quick bread. But don't worry, results are still great and delicious.)
Place all filling ingredients in a bowl and mix. Set aside.
Roll out dough to ¼ inch thickness. Using a donut cutter or 4–5-inch cookie cutter, cut circles. Let rise for another 10–20 minutes.
Prepare a wire rack or line a tray with paper towels.
In a 2-quart pot over a medium-low flame, heat oil. Carefully fry donuts, 1 at a time, for 30 seconds to 1 minute on each side or until golden brown. Remove from oil and drain on wire rack or tray.
Put filling in a piping bag with a wide tip. Use the back of a wooden spoon to make a small hole in the side of each donut. Pipe filling into holes until filled.
In a small bowl, prepare the glaze: Mix confectioners' sugar and vanilla sugar. Add 1 tablespoon milk at a time until desired consistency is achieved.
Dip tops of donuts in glaze and top with crushed Oreos.