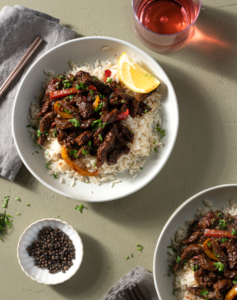 Recipe by Odaiah Leeds
Styling and photography by Chay Berger
The first time I made this pepper steak recipe, my three-year-old asked me if I could please make it again the next day. I knew I had a winner on my hands—the kind of supper everyone can enjoy!
Yield: 6 servings
Ingredients:
1.5 lbs. steak
½ cup avocado oil, divided
1 onion, sliced
6 cloves garlic, minced
½ tablespoon minced ginger
5 peppers in various colors, sliced
½ cup red wine
1 cup coconut aminos
3 teaspoons salt
Directions:
Slice steak against the grain into thin strips.
In a pan, heat ¼ cup oil. Brown meat on each side. Set side.
Using the same pan, sauté onion. Once translucent, add garlic and ginger and cook for 2 minutes.
Add peppers.
In a small bowl, combine wine, coconut aminos, salt, and ¼ cup oil.
Once the peppers have cooked down, add in the meat and pour on the sauce. Cover and simmer on a low flame for 1–2 hours (the longer you cook it, the softer it gets).
Serve over rice or quinoa.