Sweet n' Sour Meat Pockets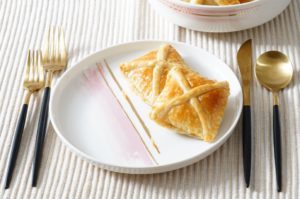 Recipe, styling, and photography by Mirel Freylich
We're always looking for new ideas to serve with the cholent. I like this one because it's great at any temperature and appeals to every age.
Yield: 15 pockets
Ingredients:
½ lb. ground beef
¼ cup sweet chili sauce
1 egg
2 tablespoons bread crumbs
1 teaspoon lemon juice
1 frozen garlic cube
Salt
Black pepper
30 puff pastry squares
Oil spray
1 egg, slightly beaten, for egg wash
Directions:
Preheat oven to 350°F. Line a baking sheet with parchment paper.
In a bowl, combine meat, chili sauce, egg, bread crumbs, lemon juice, garlic, salt, and pepper.
Lay puff pastry squares on a flat surface. Spray lightly with oil.
Place 1 tablespoon of filling in the center of each square. Cover with another square of dough.
Pinch ends together with a fork and brush with egg.
Place on baking sheet and bake for 20 minutes or until edges are browning.
Note: You may want to trim the squares for a smaller look. Adjust the filling accordingly.
You can add an x of dough on top of each knish for a pretty presentation.