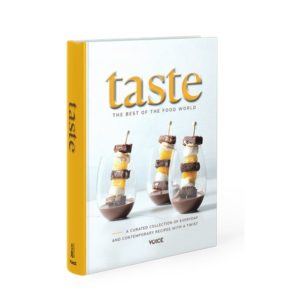 Cooking, Collab'ing, and Connecting: Five Years of Recipes Culminate in the Cookbook You've Been Waiting for
Dina Steinberg
Taste, with its easy-breezy recipes and creative new concepts, is about to become your staple cookbook.
The book elevates the basics without costing hours of time or leading a hunt for an obscure paste or herb.
The perfect blend of timeless and trendy, it features filling and comforting foods that feel both familiar and fresh.
From the kitchens of 20 fabulously talented contributors to your counter, these quick and approachable recipes will get you away from the stove and at the supper table.
The culmination of a journey
The Voice editors reflect on the journey Taste has traveled.
"Back in 2016, we were running two recipes a week and felt the magazine was ready for a full food section. Together with Nechama Norman, our first food editor, we launched Taste, the Voice of Lakewood's beautiful and engaging recipe section. It featured three recipes as well as food articles, restaurant reviews, and kitchen gadget guides."
A team of talented recipe developers and photographers joined Taste,and a magazine food segment was born.
When Nechama moved on, Faigy Murray, the current food editor, took over.
Over time, columns like Dessert Dash, Cookie Jar, and Healthy Eats as well as tablescapes and party and decor ideas during Yom Tov season were added.
And then, last winter, the editorial team at the Voice had a light bulb moment. "We've printed so many incredible, delicious recipes over time," says Malka. "We wanted to share them with the broader frum world and to compile our favorites in one place, so readers can flip through a book and find the section and recipe they are looking for."
Work on the cookbook began in earnest in January 2021, beginning with sifting through years' worth of content and compiling the recipes that stood out as the very best." The incredible copyeditor, Shira Hoffman, worked her magic, editing the recipes for the smoothest possible execution. Talented graphic artist Perel Leah Levitin created the layout and design, styling a book that is seamlessly cohesive and pleasing to the eye.
The result is a cookbook that's the best of today's food world, with contributions from Chay Berger, Dina Bucholz, FP Photography, Mirel Freylich, Gitty Friedman, Sara Goldstein, Naomi Hazan, Chana Rivky Klein, Odaiah Leeds, Tova Lowenthal, Faigy Murray, Nechama Norman, Chaya Ruchie Schwartz, Ruby Studios, Shaindy Siff, Faigy Stein, Shaindel Steinberg, Bracha Waintman, Esti Waldman, and Ava Zucker.
Pairing up with Feldheim was exciting; the publishers are known for their professionalism, skill, and, most of all, beautiful books. When the Voice sent them some sample pages for the Taste cookbook, they called back immediately with an enthusiastic "Yes!"
"We are honored to be the trade distributors of this beautiful cookbook and look forward to a successful launch and a quick reprint!" says Eli Meir, Feldheim distributor.
The excitement is contagious.
Taste contributor Chaya Ruchie Schwartz shares, "I'm looking forward to opening the book and having all of Taste's greatest recipes compiled in one eye-catching collection."
"I am so excited about Taste cookbook," says Faigy Murray. "It is a collaboration of the best talent the food world has to offer, all in your hands, all accessible."
Your new best friend
As it transitioned from a two-page feature to a reputable food section and finally, to a cookbook, the goal of Taste has always been to be approachable, accessible, and practical so it could make your life easier.
Taste is your best friend in the kitchen, with recipes that are unpretentious, easy to make, and delicious.
The recipes were crafted by women like you, women who struggle to squeeze cooking into their busy days and who love to feed their families wholesome, filling food.
Chay Berger, Taste stylist and photographer,loves that the recipes are, "easy, doable, and delicious."
As the Chanukah season approaches, this book, flavored with love, is sure to warm the hearts of its recipients. It's perfect for your wife, mother, mother-in-law, or daughter and is ideal for schools, business, and offices as well. This isn't a cookbook you buy as a newlywed and avoid its accusing glare as it waits, collecting dust, on an out-of-reach kitchen shelf. This cookbook is a classic; it is the place you turn for the everydays and the special days. It holds your hand through the six o'clock rush and the Erev Shabbos race. It guides you through breakfasts and suppers and everything in between.
The columns
Besides recipes, readers' favorite Taste columns are included in the cookbook, in addition to engaging kitchen poetry, stories, and articles.
Food connects. It brings together families and friends, reaching across distances and divides to bring out our common passion for nourishing our families.
Food Forum is a weekly feature that serves to bring the community together. Readers have a platform to ask for recipes, tips, and advice. Women can also share their best hacks and methods. The section is like one giant recipe roundtable.
"Taste is your neighbors sitting together swapping recipes. It's community; it's connection," explains Faigy Murray.
As Chay Berger put it, "I always wished I could ask everyone I know for their go-to supper or favorite recipe. Food Forum is exactly that; it gives the public a platform to share their best recipes."
The forum also features highlights like Kitchen Hacks, Ask the Recipe Developer, and Gadgets and Gizmos, keeping communication and a wealth of helpful information flowing between readers and writers.
This column is a favorite, with recipes created by Odaiah Leeds, a certified nutritionist and recipe developer.
"I have a passion for developing recipes that feel like you don't have to give up on anything you're used to," Odaiah says, "foods that are good for the body, foods that fit with your life and your home, foods that family members other than the dieter can eat. My goal is to show people that healthy food can be tasty and amazing. When I come across foods that are trending, foods that people are excited about, I enjoy the challenge of transforming them into good-for-you, elevated fare."
With wholesome ingredients and a hefty seasoning of creativity, Odaiah helps readers enhance their diets without sacrificing on taste.
Chaya Ruchie Schwartz of the beloved Dessert Dash column shares that she gets recipe ideas "usually at the busiest hours. Later, when I have time, I bring them to life through testing and tweaking. I love my kitchen, I love coming up with ideas, and I love working with the staff of Taste.The recipes, photography, and formatting in Tasteare all beautiful, and I can't wait for the release of the cookbook."
Cookie Jar, by Faigy Stein, takes cookies to a whole new level. With fun add-ins and creative toppings, the column is a cookie lover's dream.
Sidebar:
Photography and Styling
Ruby Studios, Atara Schecter, Chay Berger, and others work to bring out the beauty of Taste's dishes every week.
"It's all about making the food look good," says Chay Berger. "When I photograph for Taste, my goal is to make the foods look yummy enough that readers will want to make them. Some foods, although they are delicious, don't naturally look appealing, so the challenge is figuring out how to make them look good."
Tips from the pro
Chay shares tips for fantastic food styling:
Add texture: a sprinkle of sesame seeds, croutons, or cheese will add color and life to a salad; plain-looking proteins like chicken and meat can always benefit from some microgreens or fresh herbs.
Layer it: a napkin, charger, glass, or fork can really make a dish pop off a page. These elements also paint a scene, telling the story of the dish.
For pretty and interesting foods, zoom in on the dish and let it fill the page. For example, a textured, multicolored soup makes a great photo and doesn't need many props.
Taste will be available in all Judaica stores in the beginning of November. Pre-order by 11/1/21 to receive 25% off for a discounted price of $29.99 (at a savings of $10). Orders can be placed at https://thevoiceoflakewood.com/tastecookbook/. Makes a great gift for employees, teachers and family and friends! For wholesale inquiries email tastecookbook@thevoiceoflakewood.com.