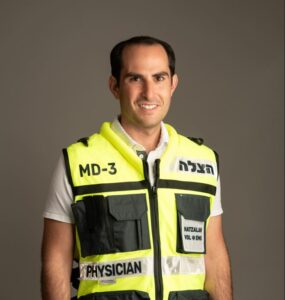 Meet Dr. Josh Schwarzbaum, CHEMED Physician and New Director of Hatzolah of Central Jersey
A young mother sat anxiously in the CHEMED office, a wave of terrifying thoughts gripping her and threatening to plunge her frazzled nerves into outright panic. She had held off on calling Hatzolah, but she couldn't help worrying over whether she had made the right decision. Had she waited too long? With her eyes locked on her infant, flush with fever and chills, she silently recited Tehillim, beseeching Hashem to save her child from whatever terrible ailment had befallen him.
After a minute which seemed like an eternity, Dr. Josh Schwarzbaum entered the room. It was a scene he had witnessed countless times before: a feverish child and a panicky mother wordlessly begging for a savior.
Dr. Schwarzbaum flashed a comforting smile at the worried mother, assuring her that all would be fine. A quick exam of the young patient confirmed his suspicions—the child was suffering from a rather benign viral infection. With proper hydration and rest, he would be back to his bubbly self within days.
Taking a seat and turning to the mother, Dr. Schwarzbaum pivoted to her needs. The child was going to be okay; she needed assistance more than he did. Several minutes of medical education and reassurance did the trick. The coloring in her face returned, and a look of relief replaced that of anxiety and fear.
Dr. Schwarzbaum's work was done—in this room. With a smile and wishes of a refuah sheleimah, he headed to another patient's room to heal more ailments—of body and soul.
Helming Hatzolah
If there were one word to describe the inimitable work of Hatzolah of Central Jersey, it would be devotion. The hallmark of Hatzolah, and what has made it so successful, is undeniably its unwavering commitment to excellence in every aspect of its lifesaving work. Covering an area spanning more than 150 square miles, Hatzolah's 200-plus EMTs, paramedics, and doctors have established a reputation of unparalleled devotion to providing the highest-quality care to anyone in need.
At the helm of its vast operation stands Hatzolah's new medical director, Dr. Josh Schwarzbaum, MD, MBA. Triple-board certified in emergency medicine, emergency medical services, and addiction medicine, Dr. Schwarzbaum is a natural fit for the position as he brings years of expertise, knowledge, and know-how that pertain directly to the core of Hatzolah's work.
In addition to his Hatzolah of Central Jersey duties, Dr. Schwarzbaum serves as assistant medical director of St. Barnabas Hospital emergency department in the Bronx, medical director of Harbor House Recovery Center in the Bronx, associate medical director of New York Hatzolah, and emergency physician at CHEMED in Lakewood.
In all his roles, Dr. Schwarzbaum is a driving force who encompasses numerous qualities and characteristics that contribute invaluably to his work.
Healing with heart
In the bureaucratic, profit-driven world of medicine, finding a glimmer of humanity and empathy can at times be difficult. But every once in a while, comes along a physician whose passion for his patients cuts through the clinical coldness and reaches directly into the soul of those in his care. It is in this respect that Dr. Schwarzbaum shines brightest.
Many physicians experience a life-altering event that compels them to enter the medical field; others find their passion for healing naturally. Dr. Schwarzbaum is of the latter group, having found his calling at a young age.
Growing up in Scarsdale, New York, a young Josh Schwarzbaum dove into the world of medical care when he was just 17 years old, joining his local EMS squad to provide emergency medical assistance to those in need. He later became a member of West Side Hatzolah in New York City.
"Helping others was always on my mind," Dr. Schwarzbaum says. "It was a natural progression, something I always wanted to do, and when I had the chance, I grabbed the opportunity and didn't let go."
He began studying medicine in earnest at the Sackler School of Medicine at Tel Aviv University, a medical school consistently ranked among the best in the world, where he got his feet wet in both the science and the art of healing.
Following his 2013 graduation, Josh returned to the US, taking up residencies in emergency medicine at two Bronx facilities, Jacobi Medical Center and Montefiore Hospital, and subsequently adding to his professional training with a fellowship in emergency medical services at Newark Beth Israel Hospital and a certification in addiction medicine.
The gift of healing
Despite his lofty titles and hard-earned expertise, Dr. Schwarzbaum brings a uniquely humble, even grateful, approach to his work. Soft-spoken, deeply thoughtful, and plainly intelligent, he brings an air of unassuming confidence and skill into every medical situation but somehow never lets those qualities get to his head.
"Hashem gave me an opportunity to help others. My job is to perform those duties as best as I can," he says. "I don't see this necessarily as an accomplishment of mine, but as a gift that I received—the gift of being able to heal others. It's nothing more than that."
With a keen focus on his patients' every need, Dr. Schwarzbaum insists on employing a whole-body approach to healing—a core part of his overall philosophy of care.
"One of the most critical yet overlooked aspects of healing is the patient's state of mind. As doctors, we can treat symptoms, or we can treat a fellow human being and the entirety of their struggle—physical, emotional, and spiritual," Dr. Schwarzbaum says.
He explains that illness is a manifestation of numerous components going well beyond the physical symptoms. Specifically, he places great emphasis on the mind-body connection and its value in alleviating pain and stress.
"Ensuring a healthy mind-body connection is equally important as treating the physical ailment itself," Dr. Schwarzbaum says, noting that in addiction medicine, this concept is "front and center." "In a way, addiction is a disconnection from the chelek Elokah that we all have within us. Repairing that broken relationship is critical to empowering people to heal from getting back in touch with themselves. All forms of illness are in some way a breakdown of that connection, necessitating treatment that goes beyond the physical symptoms."
Maintaining a balance
In any field of medicine, positive outcomes are never guaranteed. This painful reality is particularly acute in Dr. Schwarzbaum's line of work—a truth he says necessitates a proper and unflinching perspective on the role of doctors and emergency responders.
"Whether you're a doctor, nurse, paramedic, EMT, or any other medical professional, understanding your role is key. When we are at a scene and things are chaotic, we still have a job to perform and we still have an ability to help. We just have to know how to find it," Dr. Schwarzbaum says.
This frame of mind is one that Hatzolah members learn to master and is among the many facets of its work which has secured the organization's vital standing as an essential thread in the Lakewood community's fabric.
"When responding to an emergency—whether it's in the hospital or at someone's home—we have to be prepared for anything, both physically and emotionally," Dr. Schwarzbaum elaborates. "That can be intensely challenging, but the perspective we keep is focusing solely on how we can be of assistance. If we can't help medically, how can we help? We can still be a source of comfort or support for a grieving family member. Offering a shoulder to cry on or a comforting word is sometimes all we can do, but being able to provide that is a gift in itself, and those are roles that are part and parcel of our duties."
The Lakewood connection
Despite not having grown up in or being a resident of Lakewood, Dr. Schwarzbaum is no stranger to the region's unique characteristics. As an emergency medicine physician at CHEMED, Dr. Schwarzbaum has long been intimately involved in the well-being of Lakewood's residents, well before assuming the directorship of Hatzolah's medical operations.
His reason for choosing to work at CHEMED rather than a hospital or medical facility closer to his home in Teaneck underscores his commitment to excellence in patient care.
"I love coming to Lakewood," Dr. Schwarzbaum says. "It's certainly further from home than traveling to the hospital. But it's a worthwhile endeavor because I'm helping a community that I love and a population that I truly hold dear.
"More specifically, I work at CHEMED because it is an organization that really cares about patient care. In a world of rapid medical advances, CHEMED is perpetually updating and enhancing its services, enabling its providers to offer the latest breakthroughs in treatment and care."
Dr. Schwarzbaum recalls that upon interviewing for a position at CHEMED, he was immediately struck by the medical facility's relentless pursuit of excellence and unwavering focus on the needs of its patients.
"Their only concern is ensuring that their patients are tended to with top-notch care, empathy, sensitivity, and respect," Dr. Schwarzbaum attests. "When a patient requires care, they can be sure that CHEMED will go the extra mile for them, far exceeding what's considered routine or the norm in today's medical environment. This insistence on cutting through the red tape and providing quality care and access to good medicine makes CHEMED stand out quite conspicuously from other health facilities."
Indeed, CHEMED's approach to care has quickly made it the most overwhelmingly popular medical facility not only in Lakewood, but in the entire region. Having treated hundreds of thousands of patients to date, the health center recently opened a second location on River Avenue, and plans are in the works for an additional facility in Jackson.
Raising the bar
As Hatzolah of Central Jersey's new medical director, Dr. Schwarzbaum bears the weight of ensuring the quality of care of what is arguably Lakewood's most critical volunteer organization. But rather than being overwhelmed by the immensity of the job, he relishes the opportunity.
"As the community population grows, and as it spreads ever further out, Hatzolah's operational responsibilities multiply exponentially as well, becoming ever more complex and nuanced," Dr. Schwarzbaum says. "But," he's quick to add, "it's just another opportunity for me to help."
His top priority is ensuring that the quality of care, quick response time, and professionalism already exhibited by Hatzolah members remain intact, as well as implementing the most cutting-edge innovations and advances in emergency medicine in Hatzolah's response protocols.
Doing so entails myriad administrative procedures far from the public eye. Along with Hatzolah's dedicated captains, Dr. Schwarzbaum pores over mountains of data from emergency calls—response time, care provided, patient outcomes, protocols employed, and more—all in an interminable effort to improve Hatzolah's service to the community.
It also involves maintaining and refining communication between Hatzolah and the public—including rabbanim and lay leaders, as well as recruiting new qualified members, providing continuing education for emergency responders, and a multitude of additional measures and initiatives that guarantee the organization's continued success.
"It's a lot, no doubt," Dr. Schwarzbaum says with a smile. "But becoming the medical director of Hatzolah on top of my work at CHEMED is an incredible opportunity to be of further assistance to the community. And that's what we are here for, isn't it?"