Chocolate Peanut Butter Lava Cake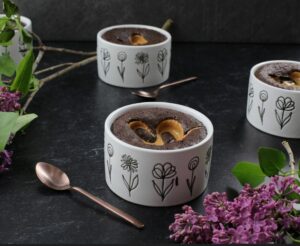 Recipe, styling, and photography by Faigy Reiner
Made with only a few simple ingredients, this decadent cake boasts a rich and velvety chocolate center which oozes out with every bite.
Yield: approximately 6 servings
Ingredients:
4 eggs
1 cup oil
1½ cups sugar
¾ cup cocoa
½ teaspoon coffee
½ cup cornstarch
6 tablespoons peanut butter, divided
Directions:
Preheat oven on 350°F.
In a bowl, combine eggs, oil, sugar, cocoa, coffee, and cornstarch. Blend using an immersion blender.
Spray 8 ovenproof ramekins with oil spray.
Divide mixture among ramekins. Top each with 1 tablespoon peanut butter.
Bake for 17–20 minutes, depending on how gooey you like it.
Serve with ice cream.