Chofetz Chaim Heritage Foundation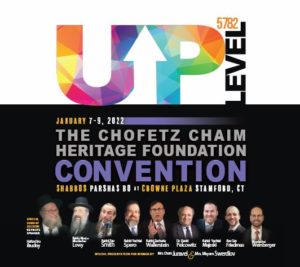 CCHF UpLevel Shabbos: Where Everyone Is Reaching Higher
Imagine a Shabbos event that offers a total, immersive experience designed to uplift and enrich participants' relationships with family, friends, and every Jew they meet.A Shabbos surrounded by people who just love to learn and grow. A Shabbos in which every speaker, every panel, and every event aims at the goal of building a life of shalom and blessing. A Shabbos that spurs long-lasting life improvements which participants can feel and see.
That Shabbos takes place next week, Shabbos Parshas Bo,January 7–9 at the Crowne Plaza Hotel in Stamford, CT.
The Chofetz Chaim Heritage Foundation's UpLevel 5782 combines all the ingredients of an ideal Shabbos. Besides the inspiring, engaging program for adults, it offers exciting children's activities, beautiful music, and the famous cuisine of Chap A Nosh, enjoyed while surrounded by fellow Jews who are all focused on growing in their bein adam l'chaveiro. Singles will enjoy special programming on this weekend as well, highlighted by an opportunity to meet with shadchanim.
Participants in past events note the unique, uplifting atmosphere that makes a CCHF Shabbos stand out. "It is best Shabbos I've ever been to," is the feedback from not just one, but many participants. "It really made a difference in my life."
Learn from the experts
The roster of speakers features some of the most sought-after experts on the interpersonal skills required for living in harmony and the Torah's laws of bein adam l'chaveiro.Each segment of the programaddresses hot topics relevant to everyday life.
Rabbi Yechiel Spero, famed author who has inspired tens of thousands of readers as well as audiences throughout Klal Yisrael, will launch the event with his trademark dose of enthusiasm, speaking about "Why This Shabbos Is Your Best Investment Yet."
Dr. David Pelcovitz, Rabbi Zecharia Wallerstein, and R' Mordechai Weinberger, LSCW will take part in a panel discussion on "Your Burning Relationship Questions Answered." All three speakers bring decades of experience and expertise in dealing with a wide range of issues, including those related to the parent-child relationship and chinuch, teens' challenges, marriage, sibling and extended family dynamics, workplace dynamics, social challenges, and spiritual issues.
Rav Moshe Mordechai Lowy, rav of Agudath Yisrael of Toronto and CCHF's posek for hilchos shemiras halashon; and Rav Zev Smith, incisive lecturer and posek, will discuss shemiras halashon in the workplace in a program entitled "All in a Day's Work," moderated by R' Yisroel Majeski.
Two sessions will focus on challenges specific to women: Well-known speaker and therapist Mrs. Chani Juravel will share her wealth of wisdom on relationships in her address, "Tolerating Others, Tolerating Ourselves." Mrs. Miryam Swerdlov, veteran teacher and inspirational speaker, will offer advice on achieving inner peace in her address, "From Stress to Serenity in Six Steps."
R' Mordechai Weinberger will offer a thought-provoking view on finding and actualizing our potential in his session entitled, "Stop Competing, Start Winning."
For singles, a special panel will be offered by renowned shadchanim Rabbi Ezra Rosner and Mrs. Gitty Harar, who will draw from their experience and insight to offer guidance on "Finding 'the One': The Do's and Don'ts from the Professionals."
Rav Elya Brudny, rosh yeshivah of the Mirrer Yeshiva in Brooklyn and rabbinic adviser to the CCHF, will deliver the Sunday keynote address.
More to learn and enjoy
In addition, a daf yomi shiur will be given by Rabbi Sruly Bornstein, whose energy-infused online shiurim attract thousands of listeners.
Rav Gav—aka Rav Gavriel Friedman—who has been bringing inspiration and smiles to audiences around the globe, will be presenting a special program.
Soul-stirring music will be provided on Leil Shabbos and Motza'ei Shabbosby Eitan Katz and the Zimra Choir.
Busy, happy children
Families will find this Shabbos not only uplifting, but relaxing, with an exciting children's program designed to keep children active and entertained and to create great family memories. The program features a day camp throughout the weekend, amazing inflatables, a talented storyteller, a game room, and a special children's oneg Shabbos.
There are still openings to be a part of this unforgettable Shabbos. As anyone who has been to a past CCHF Shabbos can attest, it's a unique atmosphere for relaxing and enjoying all the pleasures of Shabbos, meeting others who are aspiring to grow, and acquiring new, life-enhancing skills and perspectives.
To find out more or to make a reservation, visit cchf.global/convention or call 845-353-3505 ext. 159.