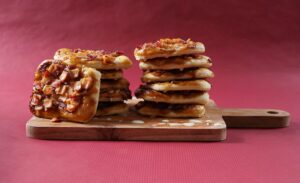 Recipe by Gitty Friedman
Styling and photography by Mirel Freylich
This is the easiest supper and the best way to use up leftover Shabbos deli without your family complaining about leftovers.
Yield: 24 mini pizzas
Ingredients:
24 mini pizza rounds
Barbecue sauce
5 oz. sliced turkey, diced
6 oz. sliced pastrami, diced
2 frozen sautéed onion cubes (or 1 onion, sautéed)
Garlic mayo for drizzle
Directions:
Line a baking sheet with parchment paper.
Lay pizza rounds on baking sheet. Poke a few holes in each so they don't pop up while baking.
Smear a generous amount of barbecue sauce on each round.
Top with deli and onions.
Bake at 350°F for about 20 minutes.
Drizzle with garlic mayo prior to serving.