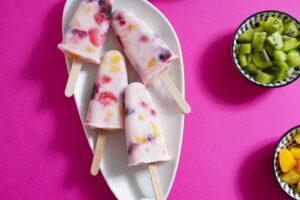 So naturally delicious, the ingredient list for these pops is short but yields superb results.
Yield: 6 pops
Ingredients:
10 oz. sweetened yogurt
2 tablespoons milk
¼ cup sugar
1 cup assorted fruit (mango, kiwi, frozen berries…)
Directions:
In a mixing bowl, combine yogurt, milk, and sugar and mix until smooth.
Gently stir in the fruits. (Note: If you are using blueberries, be extra careful when mixing.)
Spoon mixture into 6 Popsicle molds and freeze for 30 minutes.
Insert wooden sticks and freeze for another 2 hours.
Note: You can also blend the entire mixture before freezing for a deliciously different consistency.