Pesto Chicken n' Mango Salad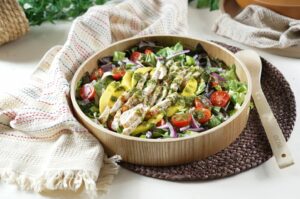 The blend of the different components here brings this salad to a whole new level.
Yield: 6 servings
Ingredients:
Salad:
2 tablespoons oil
1 frozen dill cube
1 frozen basil cube
2 frozen garlic cubes
1.5 lbs. chicken cutlets
8 oz. lettuce
½ cup cherry tomatoes, halved
½ purple onion, sliced
1 mango, sliced into strips
Dressing:
2 tablespoons olive oil
2 frozen basil cubes
2 frozen parsley cubes
3 frozen garlic cubes
1 tablespoon lemon juice
1 tablespoon brown sugar
Directions:
In a bowl, combine oil, dill, basil, and garlic.
Add chicken and marinate for 20 minutes.
Preheat oven to 375°F.
Place chicken on a baking sheet in a single layer.
Bake for 20 minutes or until edges are browning.
Slice into strips.
In a bowl, mix dressing ingredients until smooth.
Place lettuce, cherry tomatoes, onions, mango, and chicken strips in a bowl.
Drizzle with dressing and toss lightly before serving.