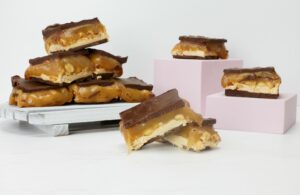 Recipe, styling, and photography by Faigy Reiner
These snicker bars with their smooth, creamy, and crunchy layers will quickly become your favorite go-to treat.
Yield: 12 bars
Ingredients:
2 cups semisweet chocolate chips, divided
6 tablespoons plus ¼ cup creamy peanut butter, divided
1 7-oz. container marshmallow fluff
1 cup confectioners' sugar
¾ cup unsalted, roasted peanuts
1 stick margarine
2 cups light brown sugar
1¼ cups canned full-fat coconut milk
1½ cups corn syrup
Directions:
Line an 8"x8" baking pan with parchment paper.
Place a pan with water over high heat and allow to boil.
Place a glass or metal bowl over the top of the pan.
Pour 1 cup chocolate chips and 3 tablespoons peanut butter in the bowl and melt until smooth, stirring frequently. (If you prefer, you can microwave it instead, checking every 25 seconds to prevent burning.)
Pour melted chocolate into baking dish and spread out into a smooth, even layer. Place in the freezer.
In a medium mixing bowl, combine marshmallow fluff, ¼ cup peanut butter, and confectioners' sugar to create nougat.
Remove pan from freezer. Using your hands, push down nougat onto the chocolate.
Distribute peanuts evenly on top of the nougat and gently press the peanuts so they are "stuck" in place.
Attach a candy thermometer to a saucepan so that the end is near the bottom but not resting on it.
Add margarine to the pan and melt over medium-high heat. Add light brown sugar and stir until incorporated and melted. Add corn syrup and coconut milk.
Bring to a boil and continue to cook, stirring constantly until candy thermometer reads 235°F, the soft-ball stage. (Be patient; this process could take around 15–20 minutes.)
Allow caramel to cool for 1 hour.
Pour caramel over nougat and smooth with a spatula.
Place pan in the freezer for 1 hour.
Melt remaining chocolate chips and peanut butter (see above).
Pour over caramel and place pan in the fridge until hardened.
Use a sharp knife to cut into squares.