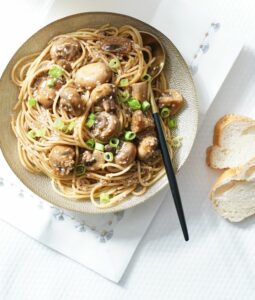 This salad is a twist on a family favorite. It's addictive and delicious, and the perfect shalosh seudos salad since its better when prepped in advance.
Yield: 6 servings
Ingredients:
1 tablespoon oil
8 oz. white mushrooms
¼ cup brown sugar
½ cup soy sauce
2 frozen garlic cubes
¼ cup sesame seeds
2 teaspoons cornstarch
1 tablespoon hot water
1 lb. angel hair pasta, cooked according to package instructions
2 scallions, sliced
Directions:
In a frying pan over medium flame, heat oil and sauté mushrooms until golden brown.
Add sugar, soy sauce, garlic, and sesame seeds.
Dissolve cornstarch in hot water and add to pot.
Mix sauce until it thickens a bit.
Place pasta in a large bowl and pour sauce over pasta. Mix in sliced scallions.