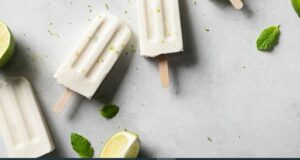 Styling and photography by Chay Berger
A refreshing treat with a hint of lime and a bit of sweetness
Yield: 6 servings
Ingredients:
1 can coconut milk
¼ cup maple syrup
¼ cup lime juice
1 teaspoon vanilla sugar
2 teaspoons shredded coconut
Lime zest (optional)
Directions:
In a bowl, mix all ingredients.
Pour into a Popsicle mold and freeze for 4–6 hours, until firm.
For a pretty presentation, add zest to frozen pops.