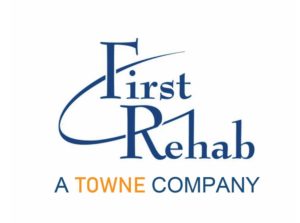 Physical Therapy the Way It Should Be
Meir Kass
Upon entering First Rehab in Lakewood for the first time, I am immediately struck by its spa-like environs, a welcome far cry from the sterile and cold atmosphere of therapy clinics I've become accustomed to following an injury to my neck. Sunlight streams through the reception area's large windows, and the scent of freshly brewed coffee wafts tantalizingly through the air, infusing a curiously inviting atmosphere.
Settling into a plush armchair to fill out the necessary paperwork, I take in my surroundings: clean, neat, with light music playing softly in the background. This feels different.
And different it is. After a brief wait, an aide escorts me to a private room for an initial assessment. As I approach the room, a therapist walks over and introduces himself, saying, "Don't worry, we'll take care of your neck."
How does he know? I've been suffering from severe chronic neck pain, but I never spoke to the therapist, nor did I describe my problem to any other First Rehab employee.
Seeing the quizzical and surprised look on my face, he is quick to explain. "I simply saw how you were holding your neck and watched your gait. Your neck and shoulders are hurting, and the pain is affecting your posture and gait. We'll take care of all of it. I'll see you soon," he says with a smile.
Stunned at his perception, I enter the private therapy room, where heated pads and plush towels are wrapped around my neck, alleviating the sharp pangs that have been accompanying me everywhere. I close my eyes and for the next several minutes, let the pain and discomfort melt away as I relax in the quiet tranquility of First Rehab—a place I already know I will come to love.
The difference makes a difference
First Rehab isn't the first therapy clinic I turned to, not by a long shot. I've been around the carousel of clinics, with physical therapists essentially throwing up their hands in despair and urging me to learn to live with chronic pain.
But then I heard about First Rehab and the top-tier staff they employ. With its decades of experience and relentless drive to better the lives of their patients, First Rehab offers me a glimmer of hope, a shining ray of light in what has become a frustrating, vexing fight for a return to normalcy.
Several months of physical therapy at First Rehab result in a drastic improvement to my condition, but I don't quite know how or why. What makes First Rehab so exceptionally different that allows it to accomplish what others can't?
Clinical director Baruch Gottlieb has the answer.
"We don't only focus on the physiology of treatment and healing; we focus on the psychology of it as well," he says. "Creating and nurturing a deep rapport between therapist and patient as well as maintaining an environment that is welcoming and conducive to healing are crucial parts of what we do and help maximize objectively superior outcomes. That's what makes us different, and that's why we have such great success."
Indeed, the difference makes a difference.
Excellence tailored to you
First Rehab has been providing top-notch physical and occupational therapy for 15 years, combining expertise with compassion, persistence with empathy, and professionalism with respect to best assist every patient that walks through its doors.
The clinic was bought last year by The Towne Group, a leading name in the health-care industry with vast experience and know-how in providing patients with stellar care. The Towne Group's purchase of First Rehab has turbocharged the already high-quality and unique services provided by its therapists and complements the clinic's constant upgrading and enhancement of the care it proudly provides.
The clinic offers treatment for a wide array of injuries, disorders, and conditions, ranging from minor aches and pains to recovery from major surgery and chronic conditions. Its therapists and aides are trained in the latest and most cutting-edge treatment options and bring the full weight of their training and experience to every patient they encounter.
First Rehab's physical therapists include clinical director Baruch Gottlieb, who began his career working in orthopedics at Mount Sinai Medical Center in New York City, went on to serve as rehab director in a skilled nursing facility, and has now brought his talents—and congenial nature—to First Rehab.
Female therapists Karen/Chany Tischler and Sora Schonfeld lead the way with female patients, providing superior therapy and using their exceptional ability to connect on an emotional level to maximize positive treatment outcomes. They are particularly highly skilled in dealing with complex issues, some of which are unique to the frum community.
Occupational therapists Chana Hellman and Malky Wilschanski are highly acclaimed experts in their field who place a special focus on hand therapy, including treating issues such as carpal tunnel syndrome, trigger finger, tennis elbow, and shoulder tendonitis. They are also highly trained and experienced in treating post-stroke patients, and both hold advanced certification in the use of electrotherapy and ultrasound as treatment modalities, both popular options among First Rehab patients.
With First Rehab's patient base growing by leaps and bounds, a new physical therapist was added to its roster after Pesach: Shia Itzkowitz, an expert in manual therapy and a longtime physical trainer. Already one of First Rehab's most popular physical therapists, Shia is exceptionally fluent in the language and treatment of sports injuries and has extensive training in deep tissue massage, joint manipulation, and high-level exercises. He also brings years of experience in treating patients with neurological issues, including Parkinson's, multiple sclerosis, and cerebral palsy.
"Every therapist here has a vast wealth of knowledge, years of intensive training and experience, and a deep commitment to the well-being of their patients," Shia says. "The atmosphere, the service, and the therapies themselves are all tailor-made especially for each patient."
Close and convenient
First Rehab is conveniently located at 1352 River Avenue in Lakewood, next door to Seagull Square and behind the office of Dr. Cohen and Dr. Lempel. Its proximity just a short drive from The Fairways and The Enclave provides ease of access to members of Lakewood's 55-and-above community.
To best serve its patients, in addition to its regular business hours, First Rehab operates on Sundays and weeknights. Open slots fill up quickly, so it's important to contact them as soon as possible so the dedicated staff can work with your schedule to get you an appointment at the most convenient time possible.
To book an appointment with one of their physical or occupational therapists, contact First Rehab's 24-hour call center by dialing 732-370-2010. For further information, call or visit first-rehab.com. First Rehab is always happy to answer your questions and be of service to you in any way possible.
Sidebars with Photos
Patients are welcomed into First Rehab's warm and inviting reception area, with personnel ready to assist and guide them as their journey to healing begins.
The private therapy rooms are designed for the patients' comfort. Therapy sessions begin here with heating and cooling pads as necessary and manual manipulation by a physical therapist.
Once the physical therapist has concluded their one-on-one work with a patient, a PT aide will guide the patient through therapist-recommended exercises in First Rehab's fully stocked gym. When the exercises are done, there's no need to rush out; patients can stay as long as they'd like!
Sidebar
First Rehab's therapists have extensive experience treating various injuries and conditions. These are some of the most common ones they treat.
Geriatric: balance issues, general weakness, gait abnormalities
Sports injuries: knee (meniscus), ankle, and shoulder (rotator cuff, labrum) injuries
Lower-back pain: stenosis, poor core stability, arthritis associated
Post–surgery: knee and hip replacements
Neurological: Parkinson's, MS, stroke
Post-Covid: foot drop, hand weakness, neuropathy
Neck pain: arthritis related, posture issues, whiplash, slipped discs
Arm and hand: carpal tunnel syndrome, trigger finger, tennis elbow