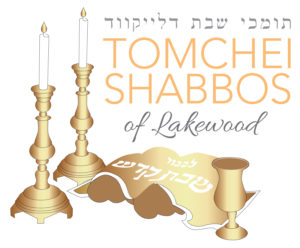 Shabbos in Lakewood will never be the same again.
Welcome to My Shabbos Family, a groundbreaking initiative of Tomchei Shabbos of Lakewood.
Lakewood is alight with the launch of an incredible new initiative from Tomchei Shabbos.
My Shabbos Family is set to be one of the most rewarding efforts taking place in recent years.
Its mission? To help our community, specifically those in our own neighborhoods.
Started by Tomchei Shabbos of Lakewood, this project takes place directly in the area you live in—Ridge Area, Albert Area, Forest Park, Westgate, Jackson, Toms River, and all over town. It's fueled by you, your neighborhood, and our community.
Lakewood is adopting Lakewood
"We don't need to look far to hear the common phrase 'charity begins at home,'" says a founding member of My Shabbos Family, "and there are so many families who are in need of our—your—support.
"Just today, a mother called me up. She was tearful. 'It's not just the food, but Shabbos that you've given back to my family. We sit around our table with chicken and even dessert, and we feel like a regular family.'"
My Shabbos Family is all about taking responsibility for our community.
"This initiative is about being there for our community and showing up for our neighbors. We can share the gift of Shabbos with our families in Toms River, Jackson, Howell, and the rest of greater Lakewood. Without our community, and without you, nothing will happen."
We're taking responsibility
My Shabbos Family is an initiative of Tomchei Shabbos of Lakewood, the largest kosher food pantry in New Jersey. My Shabbos Family aims to make sure every family in Lakewood has Shabbos food on its table. Your sponsorship goes directly to someone's Shabbos food this week.
Right now, there are more than 1,252 families in Lakewood that are relying on Tomchei Shabbos for their Shabbos food. With your support, we'll bring Shabbos to every family in our town—and your neighborhood.
How it works
Through My Shabbos Family, you can customize your donation to your area and adopt a family in need through a recurring donation that renews itself every month. You choose a family size in your area, and you're matched with a family in your neighborhood that will receive a box of core ingredients, necessities, meats, and fish.
One Thursday each month, volunteers pack boxes full of items that are ordered in bulk to save money and allow more families to benefit. The boxes are filled with potatoes, chicken cutlets, Lebens, pre-packed items, and other household necessities. Items are of the best quality and the highest kashrus standards and are unmarked to protect the privacy of the 1,252-plus families that receive a My Shabbos Family delivery.
These are more than just boxes. Each box is created according to what a family needs. Every child is accounted for and looked after. Every item is rigorously checked and carefully packed. Every box is personalized to family size.
Hundreds of boxes are packed in a few hours, and then, they're loaded onto trucks. This extraordinary feat is accomplished by dedicated volunteers of all ages and backgrounds.
As one volunteer put it, "It is an enormous task. The pallets are huge! You cannot imagine how much food is in the warehouse. But every pallet is unpacked, and every item is accounted for.
"We come together from all sectors of Klal Yisrael, for Klal Yisrael. And you play a large part! Your generosity is what allows us to fulfill this precious mitzvah of giving to our community."
Dedicated drivers deliver the boxes, and on Shabbos, everyone in the neighborhood has food.
Chezki, a Tomchei Shabbos delivery driver, recounts, "Every box delivered means another family has all the essentials it needs. It brings me joy to be able to take part in this and give back to my neighbors in this way."
Another Tomchei Shabbos delivery driver shares, "My Shabbos Family does an excellent job making sure that the people I deliver to are treated with respect. I act like a regular driver delivering a box just like anyone else would receive."
The impact
Sarah*, a single mother of five, shares:
"Most people look forward to Shabbos. But for my children and myself, it was the hardest time of the week. Unlike my neighbors who shop freely, I spend a lot of time trying to track down the best deals and coupons. My parents live out of town, my siblings live in Eretz Yisrael, and it was hard to find a neighbor to go to for the seudah without sharing why.
"My Shabbos Family is changing so much for us! The boxes are delivered so sensitively, and my children love to open them up, to see what's waiting for them inside. My Shabbos Family has given my children more than just food—it has given us a taste of what Shabbos should be."
They're counting on us
There are 1,252 families in our community waiting for you. And they're just like you. They're mothers. They're fathers. They're children. They're adults and someone's child. Their son may be in your son's cheder and you don't even know it.
That's the point. Everything is private, and everything is done b'kavod. After all, they're just like us. They're beautiful, wonderful families. But they're families who need a little extra support.
Right now, you have the opportunity to help them. Is there a greater mitzvah than that?
Our goal is to cover every single family in the greater Lakewood area this year.
One sponsorship covers one family, and you can customize your family size and the area they are located in. In this way, you truly fulfill the mitzvah of giving to those in need in your community. Your donation helps fund a family's Shabbos food and brings joy to their Shabbos.
It's a zechus that your neighborhood is taking on.
Look out over the next few weeks for more ads and announcements about this initiative. In addition, Tomchei Shabbos of Lakewood's updated website has a dedicated landing page for My Shabbos Family.
Eli,* a My Shabbos Family donor, says it best: "I believe that what My Shabbos Family stands for, and what they do, is something special. Knowing that my donation goes straight to my neighbor, b'derech kavod, brings me genuine joy on Shabbos too."
Lakewood, we're counting on us.
Adopt a Shabbos family today.
Visit tomchei.org/family to adopt your Shabbos family.
*Names changed for privacy