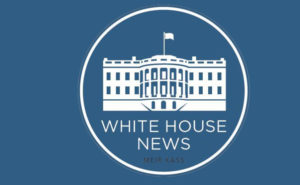 Top Story
Democrats Give Biden Rare Win on Infrastructure
House Democrats on Friday night gave President Joe Biden a long-awaited and rare win, passing a bipartisan 1.2 trillion-dollar infrastructure package and sending it to Biden's desk.
The legislation, which was already passed by the Senate in August, was approved in the House by a 228-206 vote, with 13 Republicans supporting it and six Democrats voting against it.
Congress had tried and failed for years to pass a major infrastructure bill that would provide a critical boost to the nation's transportation and utility infrastructure, and the passage of the bipartisan infrastructure bill is seen as a first step towards enacting further Democratic plans to enact their sprawling economic plans.
The White House has also suggested that the passage of the bill will help unravel the United States' mangled supply chain that has contributed to higher prices for American consumers.
The vote late Friday night came after a day of Democratic infighting over how to pass the infrastructure bill and a second, larger 1.75 trillion-dollar social spending bill. Democrats had entered the day hoping to pass both the 1.2 trillion-dollar infrastructure legislation and the 1.75 trillion-dollar social safety net and climate spending package. However, a group of centrist Democrats demanded to see an estimate for the larger bill's cost from the Congressional Budget Office (CBO) before voting to approve it.
After hours of talks, the progressive caucus in the House got assurances from centrists that they would support the larger package. Congressional Progressive Caucus Chair Rep. Pramila Jayapal said the deal consists of the all Democrats agreeing to back the infrastructure plan in exchange for a commitment to vote on the social spending bill no later than next week, with centrists guaranteeing that they will vote to pass it pending a CBO score that assuages their concerns about long-term budget deficits.
However, the House will not be in Washington next week, and it could take the CBO weeks to prepare a score for the legislation, thus it is unlikely that a vote on the legislation will take place by the end of next week as promised.
In a statement following the infrastructure bill's passage, President Biden released a statement calling it a "monumental step forward as a nation."
"This is a blue-collar blueprint to rebuild America, and it's long overdue," Biden said. "The House of Representatives passed an Infrastructure Investment and Jobs Act. That's a fancy way of saying a bipartisan infrastructure bill, once-in-a-generation investment that's going to create millions of jobs, modernize our infrastructure, our roads, our bridges, our broadband, a range of things turning the climate crisis into an opportunity, and puts us on a path to win the economic competition of the twenty-first century that we face with China and other large countries in the rest of the world."
The passage of the infrastructure bill was desperately needed by President Biden—who is suffering from the worst polling approval ratings of any president besides Donald Trump in modern history—and Democrats, who were crushed last week by devastating election losses in a number of states and particularly in Virginia, where the GOP won races for governor, lieutenant governor, and attorney general.
Briefs
Dems Worried over Election Defeats
Underwhelming performances by Democratic candidates in New Jersey and Virginia in last week's election has sparked panic among Democrats who now see their House and Senate majorities in serious jeopardy heading into the 2022 midterms.
Immediately following last Tuesday's election triumphs, Republicans went on the offensive, announcing bids to go after swing-seat Democrats in the House. Minority Leader Kevin McCarthy predicted that Republicans would pick up 60 House seats in next year's elections.
Republicans need to flip a total of just five House seats to take back the House majority, and will gain control of the Senate if they gain just one more seat in the chamber.
New Jersey Senator Bob Menendez said that the exceptionally close outcome in the Garden State's gubernatorial race revealed that Democrats are faced with a troubling lack of enthusiasm, particularly among minority voters.
"It certainly is something to watch; it certainly is to some degree unexpected," Menendez said, adding that Republicans outperformed in New Jersey because of "questions on the economy, people having Covid fatigue and minority communities not coming out in the way they should."
Appeals Court Blocks Biden's Vax Mandate
A federal appeals court has temporarily blocked President Biden's vaccine mandate that would apply to large employers, certain health care workers and all federal contractors.
A three-judge panel on the Fifth Circuit Court of Appeals said that Republican-led states and private businesses that had filed a lawsuit against the mandate "give cause to believe there are grave statutory and constitutional issues with the mandate."
The Biden administration had announced last Thursday that employees who fall into the eligible groups for the mandate would need to have received the necessary shots by January 4.
The White House is bracing for further legal challenges to its vaccine mandate, with business groups, religious organizations and Republican attorneys general filing a barrage of lawsuits against the rule.
A coalition of 11 states led by Missouri Attorney General Eric Schmitt, who is running for Senate, argued in a lawsuit that the Occupational Safety and Health Administration (OSHA) doesn't have the authority to put in place sweeping federal public health regulations and that the mandate unconstitutionally infringes on states' powers.
A separate group led by West Virginia Attorney General Patrick Morrisey filed a similar lawsuit in the 6th Circuit. In the South, Alabama, Florida, and Georgia filed their own lawsuit, and Louisiana, Mississippi, South Carolina, Texas, and Utah filed a lawsuit of their own, as well.
Despite the flurry of lawsuits, the White House expressed confidence that the mandate would survive the challenges ahead.
"The Department of Labor has a responsibility to keep workers safe and the legal authority to do so," said White House deputy press secretary Karine Jean-Pierre. "We believe we have the authority to do this… And again, this is the about saving people's lives and making sure their workplace is safe."
Jill Biden Kicks Off Child Vaccine Push
First Lady Jill Biden embarked on a nationwide effort to encourage Covid-19 vaccinations for children 5 to 11 years old after the CDC officially greenlit the Pfizer vaccine for the age group last week.
"It will allow parents to end months of anxious worrying about their kids, reduce the extent to which children spread the virus to others. It is a major step forward for our nation in our fight to defeat the virus," President Biden said in a statement.
"Over the last several weeks, my administration has been working hard to be prepared for this moment: we are ready to act," the statement continued. "We have already secured enough vaccine supply for every child in America, and over the past weekend, we began the process of packing and shipping out millions of pediatric vaccine doses. These doses—specially designed for these younger children—have started to arrive at thousands of locations across the country."
Analyst Who Contributed to Steele Dossier Arrested
An analyst who played a key role in the compilation of the infamous Steele Dossier, which searched for possible links between Donald Trump and Russia, was arrested and charged with lying to the FBI about his sources.
Igor Danchenko researched claims that went into the dossier, which was comprised of a compendium of rumors and unproved assertions suggesting that Trump and his 2016 presidential campaign were compromised by, and conspiring with, Russian intelligence to help him defeat Hillary Clinton.
The indictment says that Danchenko misled the FBI by denying that he had discussed any allegations in the dossier with a contact, Charles Dolan, a public relations executive and longtime Democratic operative who volunteered for the Clinton campaign. The indictment states that Danchenko had actually sourced one or two of the allegations contained in the dossier to Dolan, meaning that the Clinton campaign was playing a direct role in getting the FBI to open an investigation into the Trump campaign.
The indictment against Danchenko is part of special counsel John Durham's ongoing investigation into the origins of the FBI probe into Trump's alleged dealings with Russian intelligence and is the third criminal case brought by Durham.
The indictment further endorses a longstanding concern that the FBI's investigation into the Trump campaign was based on faulty intelligence and unsupported, uncorroborated claims. And now, it appears that the Clinton campaign had a hand in it as well.
Biden Says Separated Illegals Deserve Compensation
President Biden said over the weekend that the families of children separated from their parents at the US-Mexico border during the Trump administration should be compensated, in an issue that the president has flip-flopped on repeatedly.
"If, in fact, because of the outrageous behavior of the last administration, you coming across the border, whether it was legally or illegally, and you lost your child—you lost your child. It's gone—you deserve some kind of compensation, no matter what the circumstance," Biden said, tripping over his words.
"What that will be I have no idea. I have no idea," he added.
The Justice Department was considering payments of around 450,000 dollars per person separated from a family member but that number has changed, though not dramatically, according to sources who spoke with the Associated Press. If the compensation number stays about the same as was first reported, it would mean that illegal migrants who crossed into the US would be turned into overnight millionaires and would receive more compensation than many Gold Star families and some families of 9/11 victims.
About 5,500 children were split from their parents under the Trump administration's "zero tolerance" policy. Inadequate tracking systems caused many of those children to remain separated from their parents for an extended time. The payments are intended to compensate for the psychological trauma of the separations.
Biden Approval Rating Drops to New Low
President Joe Biden's popularity continued to sink in a new poll released on Sunday. The poll, conducted by USA Today and Suffolk University, finds that Biden's approval rating had fallen to a dismal 38 percent after hovering in the low 40s for several weeks.
The survey found that 46 percent of respondents think Biden is doing worse as president than expected, including 16 percent of people who voted for him. And among independents, 44 percent said they think Biden is performing worse than they had expected.
The president's low approval ratings is shaping up to have a disastrous impact for both Biden and Democrats in future elections. According to the poll, 64 percent of Americans—and 28 percent of Democrats—say they don't want Biden to run for reelection in 2024.
In comparison, 58 percent of poll respondents said they do not want Trump at the top of the GOP ticket in 2024, including 24 percent of Republicans.
The poll came following Democrats' crippling losses in last Tuesday's elections, but before the bipartisan infrastructure bill was passed in the House of Representatives. It remains to be seen whether Biden's first major legislative win will have a positive effect on his approval ratings.
MTG: "Vaccine Nazis" Are "Ruining Our Country"
Rep. Marjorie Taylor Greene, a controversial Republican from Georgia who apologized earlier this year for comparing mask mandates to the Holocaust, made another reference to Nazi Germany during an interview.
"They're ruining our country, these vaccine Nazis," Greene said on Steve Bannon's podcast. "I'm sorry. I know I'm using the word Nazis and everybody gets mad when I say it, but that's exactly what they are."
Greene, who has been fined 48,000 dollars by the House sergeant-at-arms for refusing to wear a mask on the House floor on at least 20 occasions, also told Bannon that she has not received a Covid-19 vaccine.
"You want to know something, Steve? I'm not vaccinated. I'm not vaccinated, and I'm not getting the vaccine because I'm an American. I can choose what I want to do with my body. I have the freedom to decide if I want to get a vaccine or not get a vaccine. I do not care who tells me to get one," she said, adding that she was more concerned with first responders who are under vaccine orders.
"I am a member of Congress, and guess what, no one is firing me for not being vaccinated, but all of these amazing first responders… are being fired. I am so done with it."
"They are the fascists. They have called us fascists and have called us Nazis for like five years now, and I'm fed up with it, because that's exactly who they are," Greene added. "They are the Nazis!"
CIA Director Holds Talks in Moscow
CIA Director Bill Burns went to Moscow to warn the Kremlin that the US is closely watching its buildup of troops near the Ukrainian border.
The rare trip to Russia, where Burns held talks with senior Kremlin security officials directly involved in the military activity, came as the US becomes increasingly concerned over Russia's irregular troop and equipment movements near Ukraine's northern border.
Tensions between Russia and Ukraine have been simmering for years, but Burns' visit to Russia underscores how seriously the Biden administration is taking Russia's latest provocative steps toward Ukraine, as the two countries now feud over responsibility for a deepening Ukrainian energy crisis which Ukraine believes Moscow is responsible for.
Assessments on Russia's motives reportedly widely differ in the US intelligence community. Some believe Russia is preparing for an armed invasion of Ukraine, while others suggest that they are simply carrying out military exercises or trying to intimidate their neighbor.
Pentagon Concerned over China's Military, Nuke Buildup
A recent military and nuclear stockpile buildup by China is worrying the Pentagon and US military leaders, as analysts pore over near-daily advancements by the Chinese in hypersonic missile tests, nuclear arsenal gains, and strides in space and the cybersphere.
"We're witnessing one of the largest shifts in global geo-strategic power the world has witnessed," Joint Chiefs of Staff Chairman Gen. Mark Milley said. "They are clearly challenging us regionally and their aspiration is to challenge the United States globally.
"Today [China] has capabilities in space and cyber, land, sea, air, undersea, and they are clearly challenging us regionally," Milley added. "So we have a case here of a country that is becoming extraordinarily powerful, that wants to revise the international order to their advantage. That's going to be a real challenge over the coming years. In the next ten, twenty years. That's going to be really significant for the United States."
Outgoing Vice Chairman of the Joint Chiefs of Staff echoed Milley's comments, calling China's military advances "stunning," and warning that the Communist country would surpass the United States in military capabilities "if we don't do something to change it."