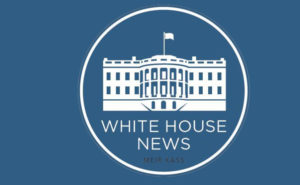 Top story
Kamala Harris' Office in Disarray
People working inside Vice President Kamala Harris' office told Politico that staffers are experiencing low
morale, porous lines of communication, and diminished trust among aides and senior officials, with many
blaming chief of staff Tina Flournoy for the issues.
For instance, when Harris made the decision to finally visit the southern border after an avalanche of
criticism from Republicans, people in her own office were blindsided by the news, leaving many
scrambling, including officials whose job it is to coordinate travel plans and messaging for the vice
president.
Politico said that 22 current and former vice-presidential aides, administration officials, and associates of
Harris and Biden told them that the atmosphere in the vice president's office is tense. While much of the
blame has been aimed at Harris' chief of staff, two administration officials said that the vice president
herself is to blame for much of the problem.
"It all starts at the top," said one administration official.
"People are thrown under the bus from the very top, there are short fuses and it's an abusive
environment," another official said. "It's not a healthy environment and people often feel mistreated. It's
not a place where people feel supported but a place where people feel treated like [garbage]."
Just six months into Kamala Harris' tenure as vice president, aides are already looking at other
employment opportunities, while others have already left, including two top aides in recent days.
Staffing problems are not a new phenomenon for Vice President Harris. As a presidential candidate, she
was forced to drop out even before the first primary was held, despite at first being considered a top
contender, due to infighting in her campaign and reports of a toxic work environment.
Democrats are now worrying that Harris' problems could cause major issues for her and the Democratic
Party if she winds up being their presidential nominee in 2024, as many assume. It isn't just the fact that
her office is in disarray that is concerning to party officials—her stumbles regarding the border crisis and
her general "political tone-deafness," as a Democratic operative put it, may very well be disastrous in
2024.
One Democratic operative told Axios that with Harris' problems piling up and becoming more known
among the public, Democrats are beginning to look elsewhere to find Joe Biden's successor in the Oval
Office.
The feeling among Democrats, the operative said, isn't "'Oh, no, our heir apparent is [messing] up, what
are we gonna do?' It's more that people think, 'Oh, she's [messing] up, maybe she shouldn't be the heir
apparent.'"
Briefs
Garland Halts Federal Executions
Attorney General Merrick Garland has ordered a halt to federal executions as Department of Justice
officials review the policies and protocols concerning the punishment.
"Serious concerns have been raised about the continued use of the death penalty across the country,
including arbitrariness in its application, disparate impact on people of color, and the troubling number of
exonerations in capital and other serious cases. Those weighty concerns deserve careful study and
evaluation by lawmakers," Garland said in a memo.
There are currently 46 men on federal death row whose executions have now been put on hold. There
are also more than 2,500 men and women on state death row, but Garland's directive does not affect
those penalties.
Garland's order comes as the Justice Department reviews changes to policies and procedures
surrounding the death penalty implemented by former attorney general Bill Barr, who revived federal
executions after a 17-year hiatus.
In the final seven months of President Trump's tenure, one woman and twelve men were executed.
Nobody has been federally executed since Joe Biden became president.
Progressives Pushing Back Against Infrastructure Deal
Leftists in the US Senate are putting new pressure on the White House and their Democratic colleagues
over the bipartisan infrastructure deal endorsed by President Biden, expressing skepticism over how the
deal would be funded.
Led by Senator Ron Wyden of Oregon, a group of progressives is pushing back against two funding
mechanisms in the bipartisan plan—repurposing unused unemployment insurance benefits and $125
billion in unspent Covid-19 relief funds originally intended to be disbursed to states. The group of senators
say the bill should be funded by raising taxes on corporations instead.
Wyden has argued that large corporations would greatly benefit from the infrastructure bill and that they
should be responsible for a large share of the cost it entails. Wyden wants to raise approximately $1
trillion from corporations, as well as an additional $300 million from taxing unrealized capital gains to pay
for the massive plan, which would fund projects to repair roads, bridges, tunnels, and other classic
infrastructure items.
As it stands, the bill would likely gain enough GOP support to pass in the evenly divided Senate, but
recent pushback from progressives over its funding mechanisms, as well as its lack of funding for
programs addressing climate change concerns, could prompt Democrats to alter the bill, which may lead
Republicans to walk away from the deal.
Trump Blasts Indictment of His Organization
At a rally in Sarasota, Florida, last weekend, former President Donald Trump blasted New York
prosecutors for filing fraud and conspiracy charges against his namesake company and its chief financial
officer, Allen Weisselberg.
"They've mobilized every power of government to come after me, my family, my wonderful employees
and my company solely because of politics," Trump said. "It's a terrible, terrible thing."
Prosecutors charged the Trump Organization and Trump Payroll Corporation with 10 counts and chief
financial officer Allen Weisselberg with 15 felony counts in connection to an alleged tax scheme dating
back to 2005. They are charged with conspiracy, criminal tax fraud and falsifying business records.
Ahead of the charges being filed, Trump released a statement saying that his organization had done
nothing wrong, and insinuated that investigations into his business practices are politically motivated.
"They leak, they lie, and they campaign based on information that has already been gone through in other
of the many investigations I have put up with," Trump wrote. "Now they just leaked that we were given
one day, today, to make our case about things that are standard practice throughout the US business
community, and in no way a crime. They also know that no matter how strong our case, they will work
hard to embarrass us and the Republican Party."
Biden under Pressure to Ease Travel Restrictions
President Joe Biden is coming under increasing pressure to relax travel restrictions on international
travelers coming into the United States.
The restrictions, originally put into place to mitigate the spread of Covid-19 in the US, are now outdated
as vaccination rates rise, experts say.
Steve Shur, president of the Travel Technology Association, said the White House's restrictions on
international travelers are "frozen in time" and said he believes the time is now to restart international
travel, at least from countries with low infection rates.
Travel to the United States is currently banned for most travelers from China, the European Union, Iran,
the United Kingdom, Ireland, Brazil, South Africa, and India, a list which Lawrence Gostin, director of the
O'Neill Institute for National and Global Health Law at Georgetown Law, calls "nonsensical."
"Even if you could accurately pick and choose, which you really can't, by the time you've implemented the
policy it's changed," Gostin said. "The safest way for a traveler to come to the United States is to come
fully vaccinated with an effective vaccine," he said. "I think using a vaccine passport system, and if
somebody is not vaccinated then a very recent SARS-CoV-2 test result would be important, to make sure
that the United States is safe.
"If we want to get anywhere near back to normal, we can't live in a bubble," Gostin added. "We're going to
have to start international travel, tourism and trade, as other countries recognize."
Times Claims US Flag is "Divisive"
The New York Times sparked an uproar after publishing an article ahead of Independence Day claiming
that the US flag has become a political symbol that divides people.
The Times illustrated the divide the flag creates by mentioning anecdotes in which the American flag was
seen by Democrats as a statement about one's political leanings.
Peter Treiber, a produce seller in Southold, on the North Fork of Long Island's Suffolk County, told the
Times that an American flag on his truck kept Democrats from buying from him until he let them know that
he himself is a liberal.
"She said, 'Oh, whew. You know, I wasn't so sure about you, I thought you were some flag-waving
something-or-other,'" Treiber said. "That's why she was apprehensive of interacting with me."
A recent YouGov survey found that approximately 70 percent of Americans say the US flag makes them
feel proud, but while 66 percent of Republicans associate the American flag with their political party, only
34 percent of Democrats said the same—quite a sign of where American politics stands today.
John Vile, a political science professor at Middle Tennessee State University, called the politicization of
the US flag a perversion of its intent to bring together Americans from all backgrounds and political
affiliations.
"It's E Pluribus Unum—from many, one," Vile said, citing the Latin motto on the Great Seal of the United
States. "If the pluribus overwhelms the unum, then what do we have left?"
New Pro-Trump Social Media App Hacked
Gettr, a new social media app similar to Twitter launched by allies of former President Trump, was hacked
just hours after going live.
"The problem was detected and sealed in a matter of minutes, and all the intruder was able to accomplish
was to change a few user names," Jason Miller, Trump's former spokesman who founded the app, said.
Gettr was announced last week as a "non-bias social network." It is unclear whether Donald Trump, who
was banned from Twitter after the Jan. 6 attack at the Capitol, will join the new platform.
Trump has said that he is looking at several options to get his messaging out to his supporters in the
wake of being banned from many major social media platforms. He previously launched an online blog for
his supporters, but it has since been shut down due to low readership.
Biden Approval Remains Steady
A new Hill-HarrisX poll found that President Joe Biden is enjoying support from a majority of voters nearly
six months into his presidency.
Sixty percent of survey respondents said they approve of Biden's performance as president, down slightly
from 61 percent last month. Another 40 percent of respondents said they disapprove of Biden's job
performance.
Biden's highest support comes for his handling of the Covid-19 pandemic with a 68 percent approval
rating on the issue. He has a 59 percent approval on his handling of the economy, and 60 percent said
they approve of his ability to stimulate job growth.