Bein Hazmanim Summer Guide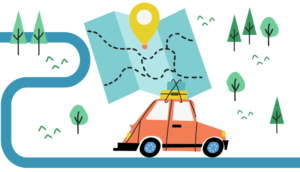 Bein Hazmanim
Dina Steinberg

Places to Go
For many, bright sunshine will always bring up images of adventure: wet, mossy rocks, gushing
waterfalls, a makeshift roadside barbecue, midday hikes, and the magic of the great outdoors. Summer
dazzles with endless opportunities for exploration, discovery, and bonding. The memories you form on
those hot, sticky days will likely last a lifetime.
Before you head out, a word of advice about day trips: Leave early in morning, make a stop or two to help
keep both irritability and cramped muscles as bay, and take a cooler filled with drinks and meals. Easy,
travel-friendly meals include:
Breakfast: Yogurt, granola or granola bars, fruit.
Lunch: A picnic lunch in a scenic park along the way is always a hit. Don't forget to throw some balls and
Frisbees into your trunk for added fun! Lunch can include tuna, egg salad, and/or falafel balls. Pass
around some pitas, premade dips and dressings, and an Israeli salad to keep everyone full for hours.
Supper: Deli, meat, schnitzel, or grilled chicken sandwiches with some sliced veggies or prepared salads
such as corn salad, tomato salad, and guacamole.
So, grab your well-worn, trusty map (or Waze or whatever) and hit the road!

Catskill Mountains
Minnewaska State Park Reserve
Do more than wander the streets of Woodbourne this summer. Minnewaska State Park is worth a trip
from anywhere! It has plenty of easy, family- and carriage-friendly hikes, a beautiful waterfall and wading
area, and gorgeous views. For an added bonus, take bikes along and ride around the stunning lake. It's a
great place to spend the day.
Distance: 2 hours 35 minutes
Address: 5281 Route 44-55, Kerhonkson, NY 12446
Hours: 9 a.m.–9 p.m.
Admission: $10 parking fee
Phone: 845-255-0752
Website: https://parks.ny.gov/parks/127/details.aspx*

Sam's Point Preserve
Connected to Minnewaska State Park is a hidden gem: Sam's Point. This spot has a fantastic, kid-friendly
hike that ends in the most magnificent soaring cliffs overlooking miles of beautiful, rolling landscapes.
Distance: 2 hours 55 minutes
Address: 400 Sams Point Road, Cragsmoor, NY 12420
Hours: Sunday–Friday 9a.m.–5 p.m.
Admission: $10 parking fee
Phone: 845-647-7989
Website: parks.ny.gov/parks/193/details.aspx

Kiamesha Lanes
If you're in the mood of a low-key activity in an air-conditioned venue, Kiamesha Lanes is the place to go.
Distance: 2 hours 40 minutes
Address: 4685 State Route 42, Kiamesha Lake, NY 12751
Hours: depends on the day
Phone: 845-794-5561

Cape May, NJ
Cape May County Park and Zoo
Cape May Zoo is beautiful, with lots of animals, flowers, and grass. Reasonably close to Lakewood, it is
the perfect-sized zoo for a family with young children. Just across the street is a lovely little park which
makes a great spot for picnicking and playing. (We like to bring along Rollerblades and enjoy them on the
smooth pavement after the zoo closes.)
Distance: 1 hour 15 minutes
Address: 707 Route 9 N., Cape May Court House, NJ 08210
Summer hours: 10 a.m.–4 p.m.
Admission: free; donations appreciated
Phone: 609-465-5271
Website: capemaycountynj.gov/1008/parkzoo

East Rutherford, NJ
American Dream Mall
Vividly colorful and eye-poppingly huge, with activities to keep you occupied for days, American Dream
Mall makes history as a place where almost anything is possible. Want to visit a water park? Go ahead,
it's down the hall. Feel like snowboarding in the midsummer heat? Right this way.
Blacklight Mini Golf, Mirror Maze, Big Snow skiing and snowboarding, DreamWorks water park, ice-
skating rink, and Sea Life Aquarium are just some of the attractions at the incredible place…oh, and
shopping too.
Distance: 1 hour 5 minutes
Address: 1 American Dream Way, East Rutherford, NJ 07073
Hours: weekdays 11 a.m.—8 p.m., Motza'ei Shabbos closes 10 p.m.
Admission: varies for each attraction
Phone: 201-939-7049
Website: www.americandream.com

Philadelphia, PA
The Mint
A tour of the Mint is fascinating for adults and children alike.
Distance: 1 hour 9 minutes
Address: 151 N. Independence Mall E., Philadelphia, PA 19106
Summer tour hours: Monday–Friday 9 a.m.–4:30 p.m.
Admission: free
Phone: 215-408-0230
Website: usmint.gov/about/mint-tours-facilities/Philadelphia/tour-information

Liberty Bell
A must-see, the Bell is located in Independence Park.
Distance: 1 hour 14 minutes
Address: 143 S. Third Street, Philadelphia, PA 19106
Admission: free
Website: www.nps.gov/inde

The Franklin Institute
The Benjamin Franklin Institute, with its hands-on, interactive activities, is a favorite.
Distance: 1 hour 4 minutes
Address: 222 N. 20th Street, Philadelphia, PA 19103
Hours: Wednesday–Friday 10 a.m.–5 p.m., Sunday 10 a.m.–6 p.m., closed Monday–Tuesday
General admission: adults $23, children $19
Phone: 215-448-1200
Website: www.fi.edu

The Poconos
Crayola Experience
The Crayola Factory has endless options for all ages and is sure to uncover the artist in each member of
your family.
Distance: 1 hour 37 minutes
Address: 30 Centre Square, Easton, PA 18042
Hours: 10 a.m.–4 p.m.
General admission: Age 3 and up: $26. Online prices are cheaper.
Phone: 610-515-8000
Website: www.crayolaexperience.com

Leigh Gorge Scenic Railway
This rustic train ride winds through the mountains and is accompanied by a talking guide of the area.
Truly magical!
Distance: 2 hours 10 minutes
Address: 1 Susquehanna Street, Jim Thorpe, PA
Hours: Monday–Friday 8:30 a.m.–5 p.m.
Price: $14
Phone: 570-325-8485
Website: lgsry.com

Bushkill Falls
Please don't visit the Poconos without visiting Bushkill Falls! This incredible area has amazing hikes for
all levels of skill, an adorable little souvenir shop and picnic area, and, of course, the main falls, which, at
100 feet, are truly breathtaking.
Distance: 2 hours 12 minutes
Address: 138 Bushkill Falls Trail, Bushkill, PA 18324
Hours: depend on season, day, and weather
Admission: adults $15/weekdays, $18/weekends; children age 3 and up $14 weekdays, $17/weekends
Phone: 888-287-4545
Website: visitbushkillfalls.com

Hoboken, NJ
Citi Bike Rental
Hoboken is a gorgeous, quaint riverside city that sports a smooth, paved boardwalk along the Hudson
River. What a peaceful, beautiful place for a bike ride! There are a couple of Citi Bike stations located in
Hoboken. One is directly next to the Hoboken train station and is easily accessible.
Distance: 1 hour 25 minutes
Address: South Waterfront Walkway, between Sinatra Drive and First Street
Price: $3.50 for 30 minutes
Hours: 24/7

Parks
There are several fun playgrounds and parks along the Hudson River, all free of charge.
Distance: 1 hour 20 minutes
Admission: free

Train
NJ Transit has a train terminal in Hoboken. Hop on a train and head anywhere you'd like! It's also fun to
park at a different Transit station and then ride into Hoboken via train.
Distance: 1 hour 12 minutes
Address: 1 Hudson Place, Hoboken, NJ 07030
Hours: 6 a.m.–1:30 a.m.
Admission: depends on the route
Phone: 800-533-3779
Website: https://njtransit.com
Ferry
A ferry sails from Hoboken to downtown and midtown Manhattan. Conveniently, it departs from the
Hoboken NJ Transit Terminal.
Distance: 1 hour 12 minutes
Address: 1 Hudson Place, Hoboken, NJ 07030
Admission: adults $10.75, children $6.50
Phone: 800-533-3779
Website: nywaterway.com

Manhattan
Staten Island Ferry Street George Terminal
A fun and touristy way to get to Manhattan.
Distance: 1 hour 13 minutes
Address: 1 Bay Street, Staten Island, NY 10301
Hours: open 24 hours
Admission: free
Phone: 212-839-3061
Website: www.siferry.com

Central Park
These iconic grounds feature gorgeous views, walking paths, and a carousel for the little ones.
Distance: 1 hour 30 minutes
Address: 59th Street–110th Street between Fifth Avenue and Central Park West
Hours: 6 a.m.–1 a.m.
Admission: free
Phone: 212-310-6600
Website: www.nycgovparks.org/parks/central-park

9-11 Memorial Museum
A sobering museum which serves as a reminder of the tragic events of September 11, 2001.
Distance: 1 hour 15 minutes
Address: 180 Greenwich Street, New York, NY 10007
Hours: 11 a.m.–3 p.m.
Admission: children age 7 and up $15; ages 13–17, $20; adults $26
Phone: 212-312-8800
Website: 911-memorial.new-york

Ripley's Believe It or Not!
Jaw-dropping!
Distance: 1 hour 15 minutes
Address: 234 W. 42nd Street, New York, NY 10036
Hours: 11 a.m.–6 p.m.
Admission: Adults $32, children $24. Tickets are cheaper when booked online.
Phone: 212-398-3133
Website: ripleysnewyork.com

Trenton, NJ
Old Barracks Museum
Built in 1758 to house soldiers of the British Army, it is the only remaining colonial barracks in the state
and is one of the only tangible surviving elements of the 1776 Battle of Trenton. The Barracks reveal a
fascinating glimpse of history. Book a tour to watch a reenactment.
Distance: 45 minutes
Address: 101 Barrack Street, Trenton, NJ 08608
Hours: Monday–Friday 10 a.m.–5 p.m.
Admission: depends on tour program and group size
Phone: 609-396-1776
Website: barracks.org

Sayen Park Botanical Garden
This garden is stunning! With beautiful scenery, benches, and bridges, it makes the perfect background
for picture taking.
Distance: 43 minutes
Address: 155 Hughes Drive, Hamilton Square, NJ 08690
Hours: dawn to dusk
Admission: free
Phone: 609-890-3630
Website: hamiltonnj.com/SEYANGARDENS

New Jersey State House
For the history buffs: tour the state capitol.
Distance: 45 minutes
Address: 125 W. State Street, Trenton, NJ 08608
Hours: Monday–Friday 10 a.m.–3 p.m.
Phone: 609-847-3150
Website: njstatehousetours.org/tour

Lancaster, PA
Dutch Wonderland
Fun for the whole family.
Distance: 2 hours
Address: 2249 Lincoln Highway E., Lancaster, PA 17602
Hours: 10 a.m.–6 p.m.
Admission: ages 3–60 $44.99
Phone: 866-386-2839
Website: dutchwonderland.com

Amish Country
With buggy rides, tours, and crafts, Amish Country is an immersive experience.
Distance: 2 hours
Address: 501 Greenfield Road, Lancaster, PA 17601
Hours: weekdays 10 a.m.–5 p.m., weekends 9 a.m.–6 p.m.
Phone: 718-687-8511
Website: www.discoverlancaster.com/amish

Hershey Park
An unforgettable experience.
Distance: 2 hours 25 minutes
Address: 100 Hershey Park Drive, Hershey, PA
Hours: 11 a.m.–7 p.m.
Admission: $52.95
Phone: 800-437-7439
Website: hersheypark.com

Bergen County, NJ area
Bergen County Zoo
This zoo has special features including animal shows, train rides, a carousel, and pony rides.
Distance: 1 hour 25 minutes
Address: 216 Forest Avenue, Paramus, NJ
Hours: Monday–Sunday 10 a.m.–4:30 p.m.
Admission: adults $8, children age 3 and up $5
Phone: 201-262-3771
Website: bergencountyzoo.com

Abma's Farm
This farm has lots of features and activities for all ages including a petting zoo, flower-filled greenhouses,
art classes, and a farmers' market with freshly picked produce.
Distance: 1 hour 35 minutes
Address: 700 Lawlins Road, Wyckoff, NJ 07481
Hours: Monday–Friday 8am–6pm
Admission: barnyard admission $4
Phone: 201-891-0278
Website: www.abmasfarm.com

Flat Rock Brook Nature Center
With lots of scenic trails for hiking and bird-watching, Flat Rock Brook features streams, ponds, a
playground and picnic area, flowered meadows, and an aviary for the bird lovers in your family.
Distance: 1 hour 15 minutes
Address: 443 Van Nostrand Avenue, Englewood, NJ 07631
Hours: dawn to dusk
Admission: free
Phone: 201-567-1265
Website: flatrockbrook.com

Stay-at-home fun
Hotel theme
Turn your home into a cozy hotel with these tips:
 Place pretty towels in each room, along with some miniature toiletries from past hotel experiences
or from the travel section of a local convenience store. Have family members take turns doing room
service (or have the cleaning lady do it!).
 Enjoy swimming time using a kiddie pool, sprinkler, or rented in-ground pool, depending on the
ages of participants.
 A makeshift gym is an adorable addition to the hotel. Set up some mats, weights, exercise
equipment, and a water cooler. Turn on upbeat music to add to the mood.
 All it takes is a few strings of lights, a firepit, and some music to transform your backyard into a
vacation spot that feels far from home. (Firepits are easily ordered online; they are for sale on Amazon for
as low as $30–$45.)
 A breakfast buffet (or breakfast in bed if you're feeling brave) will add lots of excitement. Set out
foods that need minimal prep or none at all like yogurts, granola, cereals, and fresh fruit. Take the meal
up a notch by adding frozen waffles and blueberries with whip, brewed coffee, store-bought rolls, and/or
smoothies.
 If a breakfast buffet is too much to handle, consider setting up a tearoom with coffee, cake,
snacks, and drinks that are available all day.
 Daytime meals should be quick and easy: put together Crock-Pot or grill suppers and toaster-
oven lunches (think pizza, grilled cheese, and eggs).
Art contest
Each family member gets a canvas, paints, and brushes. Let the best picture win! (For an extra
challenge, contestants must draw a specific object.)
Bake-off
Use any ingredients to create a baking or cooking competition. Challenge your family members to make
food in a specific category such as dessert, a side dish, something even __ would eat, something healthy,
a component of Shabbos meals…
Manasquan Reservoir
From bike and boat rentals to the gorgeous walking paths, crystal-clear water, the visitors center, park,
and bird-watching, this place truly has it all.
Wood crafts
Visit a local Michaels store to choose from a large array of wood craft options for teens, toddlers, and
everyone in between. Many of these projects don't require tools and can be painted to customize the
look.
Rollerblading
Find a quiet street or a vacant parking lot, strap on the Rollerblades, and enjoy!
Performance
Have your children express their creativity with this activity. Give them free reign over the costume box
and help them create a small theater. Alternatively, you can give them paper bags, Popsicle sticks, and/or
other craft supplies and have them make a puppet show.
Camping trip
There is nothing more magical than falling asleep under sparkling stars and waking up early to the
twittering of birds. You will need a camping spot (be it actual campgrounds or your own backyard), a grill
for supper and midnight snacks, and some sleeping bags.
Bowling
There are a couple of bowling alleys located in or near Lakewood, including Finnigans and Ocean Lanes.
Car wash
Prepare a bucket of mud, a bucket of soapy water, and a bunch of toy cars. Let your toddler(s) get the
cars all dirty, then have the kids wash them. Repeat.
Oversized art
Get some medical exam table paper (the massive roll of paper your doctor uses to cover the exam table;
it's available in Walmart and on Amazon for as low as $6). Let your family color, paint, sequin, glitterize,
and otherwise decorate it. A fun twist is to completely paper the walls and floors (very securely) and let
the kids give the room a total "makeover." Added points if they draw furniture, artwork, and even flooring.
Their imaginations will run wild!
A Tour of Newport, Rhode Island
Compiled and photographed by Sarah Einhorn
"Isn't Newport, Rhode Island, just a historic place that's boring for anyone who's not a history buff?" I'm
often asked. Well, actually, it is not. Newport, Rhode Island, is located right by the ocean and offers
magnificent views and water-related activities. Only four hours away Lakewood, it is the perfect
destination.
We really enjoyed a few days' break in Newport one summer. We took all our food with us since to my
knowledge there is no kosher food available there. My husband davened in the Touro Synagogue, which
had minyanim made up of tourists and visitors (check online if the Synagogue reopened for use after
shutting due to COVID).
Finding a good place to stay is more challenging. Hotels in Newport can be pricey. When we went, we
stayed in an inn close to Touro Synagogue. The accommodations were okay but not great. If I would go
again I'd probably spend more and stay at one of the nicer hotels.

Touro Synagogue
The first Jewish residents of Newport, Rhode Island, settled there as early as 1658, when a group of
Jews came to Newport from Barbados. The community was comprised of Jews of Spanish and
Portuguese origin who lived in Amsterdam and London, then moved to Brazil before relocating to the
islands of Suriname, Barbados, Curaçao, and Jamaica and then finally settling in Newport. The settlers
started the Yeshuat Israel congregation, the second-oldest Jewish congregation in the United States.
The Jews in Newport prospered in the shipping and mercantile trades. In 1759 they began constructing a
new building to house their congregation. It was completed in 1763 and dedicated during Chanukah of
that year.
Touro Synagogue is rich with the history of the Jewish people from the colonization period until 1946,
when it was designated a National Historic Site.
The synagogue remains an active house of worship and is also toured by thousands of visitors each year.
Address:
85 Touro Street
Newport, Rhode Island 02840
Phone number: 401-847-4794
Hours: Check online for the current pricing.
Price:
Adults: $12
Seniors: $10
Students, member of the military, National Trust members, and National Park Service Pass holders: $8
Children age 13 and under: free
During prayer time entrance is free.
Purchase tickets at the Loeb Visitors Center.
Website: http://tourosynagogue.org

Newport Mansions
Situated on 88 acres of gardens and parks, Newport Mansions offer a view of American history from the
unique perspectives of the mansions' owners. Each of the historic house-museums has its own distinct
personality and features exceptional elegance, architecture, art, interior design, and landscapes. The
mansions are under the ownership of the Newport Preservation Society.
The Breakers, The Elms, and Marble House offer state-of-the-art audio players with comprehensive
descriptions and explanations of the lives of the people who lived and worked in the homes. The
information on the audio tours was taken from diaries, letters, records, and oral histories. The other
mansions, Chepstow, Hunter House, Rosecliff, and Kingscote, can be toured with a guide.
The Breakers is the most impressive of Newport's mansions. It is a symbol of the Vanderbilt family's
social and financial success in the 1880s. The Elms is famous for the Classical Revival Gardens in
addition to the mansion. The gardens include beautiful grass, tree, marble, and bronze sculptures;
fountains; a sunken garden; and a magnificent area to stroll in.
Each of the mansions has its own unique history and design to be enjoyed by visitors. If I had to choose
only one mansion to visit, I'd probably choose The Breakers. It is definitely the largest and most
impressive of the mansions.
Note: No videos or photography are allowed inside the mansions.
Address: Each mansion is located at a different location in Newport. They are relatively close to one
another.
Phone number: 401-847-1000
Hours and pricing: Check the website for hours and pricing options. Combo tickets for one or more
mansions can be purchased.
Website: https://www.newportmansions.org/

Green Animals Topiary Garden
It's hard to believe that all the sculpted bushes in Topiary Gardens are made of real greenery. The
sculptures are so amazing and authentic that you can't help wonder if they are made of plastic, but the
gardeners on-site pruning and weeding the gardens assure you that the sculptures are very real.
Green Animals Topiary Garden is a self-sufficient estate featuring formal topiaries, vegetable and herb
gardens, orchards, and a Victorian house overlooking Narragansett Bay. While it is also part of Newport
Preservation Society, the focus here is not on the house, but on the extraordinary gardens which feature
80 pieces of topiary sculpted into the forms of animals, birds, geometric figures, and ornamental designs.
The sculptures are made of California privet, yew, and English boxwood.
Green Animals is the oldest and most northern topiary garden in the United States. Alice Brayton made
the estate her permanent residence in 1939. When she died in 1972, it was left to the Preservation
Society of Newport County.
Please note: Green Animals is open seasonally and is not in the same immediate neighborhood as the
mansions.
Address:
380 Cory's Lane
Portsmouth, RI 02871
Phone number: 401-683-1267
Hours: Opens at 10 a.m. Last tour admission at 4 p.m. Grounds close at 5 p.m.
Price:
Adult: $18
Child (6–17): $8
Under 6: free
Tickets can be purchased as a package with mansion tickets. Visit Breakers Mansion and Green Animal
Topiary Garden for $32.
Website: http://www.newportmansions.org/explore/green-animals-topiary-garden

Cliff Walk
Cliff Walk is a real Newport gem. It is superb! No wonder it's one of the city's top attractions. The path is a
3.5-mile public-access walkway that borders the shoreline.
The trail runs behind many of Newport's famous mansions and is mostly paved, although there are parts
that are rugged and rocky. Cliff Walk offers some of the most magnificent scenic sights and can be
completed in about two and a half to three hours. There are also many exit points along the way if you
find it too difficult or time-consuming to complete.
Address:
117 Memorial Blvd.
Newport, RI 02840
Hours: 6 a.m.–6 p.m.
Price: Free
Website: www.cliffwalk.com

Sailing Tour—Schooner Adirondack II
One of the most outstanding features of Newport is its location right near Newport Harbor and
Narragansett Bay. Sailing is a very popular way to enjoy the water and get to know the history and
surroundings of Narragansett Bay.
We went on a tour on the 80-foot, turn-of-the-century-style pilot Schooner Adirondack II. The boat can
hold up to 57 guests, and the masts reach over 70 feet above deck and have just under 2000 square feet
of sail area. On a high-wind day, it is not uncommon to reach 10 knots under sail.
We took a morning tour and it was nice and empty; we had lots of space to move around and enjoyed the
trip immensely. Sailing is a unique type of boating experience; it is natural and very real.
Address:
23 Bowens Wharf
Newport, RI 02840
Phone number: 401-862-8441
Price: Check online for prices and tours
Website: http://www.sail-newport.com

Brenton Point State Park
Brenton Point State Park is an excellent choice for a picnic or just to relax. It offers majestic views of the
Atlantic Ocean as it meets Narragansett Bay.
Brenton Point is a popular spot; there are usually quite a few people there. There are plenty of picnic
tables. If you want to be in a location that's less populated but beautiful nonetheless, drive through the
park a bit and you should be able to find an empty spot. When we visited, we had supper one evening in
a secluded area on the shore.
Address:
Ocean Drive
Newport, RI 02840
Phone number: 401-849-4562
Price: Free
Website: http://www.stateparks.com/brenton_point_state_park_in_rhode_island.html

Block Island
Block Island, RI
Serenity is the word I'd use to describe this 17-mile island accessible by air or ferry. The Point Judith
Ferry is located only half an hour from Newport. The ferry ride takes half an hour.
There is no way to drive a car to Block Island, although it is possible to take your car on the ferry. There
are very few cars on the island. Bikes, mopeds, and small electric cars are available for rent to help you
get around.
There are two beautiful lighthouses to visit. You can also rent a boat to enjoy near the island. There is a
small airport on the island as well. Just sitting and relaxing is special on this tranquil island.
There are hotels and inns where you spend the night in order to enjoy the next day on the beautiful
island. I would count on spending a full day on the island, especially due to the timing of the ferry.

Point Judith Ferry Terminal address:
304 Great Island Road
Narragansett, RI 02882
Ferry phone number: 401-783-7996
Ferry schedule: https://www.blockislandferry.com/schedules-fares/pt-judith-traditional-schedule
Passenger ferry price:
One way:
Adult: $10.40
Senior (65+): $10.30
Children (ages 5–11): $4.15
Same-day round trip:
Adult: $19.45
Senior (65+): $18.45
Children (ages 5–11): $7.30
Different-day round trip:
Adult: $21.45
Senior (65+): $20.45
Children (ages 5–11): $8.30
Check the ferry website for automobile and bike prices.
Website: http://www.blockislandinfo.com/
A Visit to Colorado
Compiled and photographed by Sarah Einhorn
For additional trip ideas check beentheredonethattrips.com.
Visiting Colorado was a longtime dream of mine. I'd heard about the magnificent Rocky Mountains and
the beautiful views all around, and I knew that when I would go, I'd want to spend a substantial amount of
time there in order to be able to see as much of Colorado as possible. But when I started researching
tickets, sleeping accommodations, and car rentals, I realized that it would be a major and costly trip, so I
kept pushing it off.
And then, after months of staying home last spring due to COVID-19 , I realized that most summer
vacation destinations in the Northeast were closed. With few local options, I decided to finally plan and
take my family on a two-week trip to Colorado. Since we would be going for a substantial amount of time,
my children didn't go to day camp the second half of the summer, cutting the cost of our vacation.
Numerous attractions in Colorado were open to visitors, though many required reservations, and face
masks were required in indoor places, but not in most outdoor places. While there, we met loads of frum
people from the Tristate area; it seemed to be a popular destination for singles, couples, and families
looking to get away.
In an effort to do this trip in the most affordable way possible, I booked tickets with American Airline miles;
it was only 25,000 miles per person to Denver. Altogether, I paid a total of 150,000 miles plus about $70
in taxes for my husband, myself, our four older children, and our twin babies who were under two years
old. That really was a great price!
I like to bring as much food and kitchen items as possible on vacation so I don't need to spend my
vacation figuring out where to find stores that sell kosher and paying out-of-town prices. But since this
time we were flying to our destination as opposed to driving, I checked the map for a Walmart near our
accommodations in Denver and then made an online order to be picked up the morning after we arrived.
That helped us avoid schlepping things like shampoo, paper goods, grocery items, etc. I also found out
about a baby-item gemach and a small-appliance gemach where I was able to reserve things that were
difficult for us to bring along.
While preparing for the trip, I worked with a list which I divided into several categories. Here is a sample of
the lists I made. I kept adding things as I thought of them. It may help to plan an approximate daily menu
in order to know which food items to include.
Walmart Online -Shampoo, dish soap, suntan lotion…
Walmart Online Food-Ketchup, cereal, water…
Take-Along Fridge/Freezer Food– Meat, chicken, some milk, frozen chicken soup, bread, frozen pizza, cold cuts, rolls…
Take-Along Non-Perishable Food and Equipment– Whole wheat matzah, croutons, noodle soups, 2 Betty Crocker pizza makers, sharp knives…
Buy There in Grocery– challah, grape juice/wine…
Pack Per Person-6 weekday outfits, 2 Shabbos outfits, 6 pairs underwear/socks…
Packing—Other-Umbrella, hiking baby carriers, baby blankets…
Hand Luggage-Tallis/tefillin, food, sefarim, Tylenol/Motrin, laptop…
Borrowing There-Urn, car seat, Pack 'n Play
East Side Kosher Deli is the local kosher grocery, which sells takeout and bakery items. There is also a
restaurant in the back room; we didn't eat there but we heard the food is great. We did enjoy pizza one
night at Brooklyn Pizza. Rosenberg's Kosher also has baked goods.
Denver Community Kollel has an excellent Jewish Tourist Guide, a guide to Jewish Denver including
shuls, kosher food, gemachs, and more. The guide also specifies whether food sold in stores are chalav
Yisrael and pas Yisrael. The link for the guide is: https://www.denverkollel.org/wp-
content/uploads/2020/08/tourist-guide.pdf.
Denver and Vail, a ski resort town, have daily minyanim.
Accommodations and car rental
When I travel with my family, I generally like to stay in an Airbnb location or the like so that I have ample
kitchen space and a decent-sized fridge and freezer. I find a minyan for Shabbos and then I look for
accommodations within walking distance. (I match up Google Maps with the Airbnb map using a
landmark to find out how far the places are from a minyan.)
There are two main areas where the frum people live in Denver: the East Side and West Side; they are
about a 20-minute drive from each other. The East Side is where the kosher grocery, pizza shop, and
bakery are located; the kollel is located in the West Side (near Slone Lake Park). We stayed a 15–20
walk from the kollel minyan on the West Side.
During our week in Vail, we stayed in an excellent and well-priced ski condo a few minutes away from the
Vail Chabad house. It was a great location since we were right near the town but not in the thick of things,
plus we were able to enjoy beautiful views of the mountain.
We also went to Colorado Springs overnight twice during our stay. The first time we stayed at a Fairfield
Inn with Marriott points (we weren't there for Shabbos so we didn't need to be within walking distance of a
minyan). The second time we stayed at a famous high-end hotel called The Broadmoor. More on that
later…
Car rental was our next big expense. (This year car rental may prove to be more challenging since there
is a car rental shortage and available cars are very expensive.) To save money, I booked through
Costo.com, booking, canceling, and booking again until I got a good deal.
We arrived in Colorado on Monday night, did minimal unpacking, and went to bed.
The trip
Day 1
Day 1 was a Tuesday. We picked up our online order (placed before I left home) at a Walmart a few
minutes away. The plan was to stay local on the first day in order to have time to organize ourselves. We
picked up the appliances we borrowed from the gemach, did some unpacking, and headed out to the
Botanic Gardens. After Minchah and a quick supper, we drove out to Red Rocks Park and Amphitheatre.

Denver Botanic Garden
The 24-acre Denver Botanical Garden on York Street, also known as the Urban Oasis, is a haven of floral
beauty within Denver. There is nothing like walking through the beautifully designed gardens with its
diversity and variety of colors and styles. Lakes and streams run through the gardens and add a
refreshing touch.
When we visited, we first went to the indoor pavilion and then made our way through the gardens and
pathways. There are so many "wow" spots scattered throughout the park. It was obvious to us how much
thought and expertise went into planning and designing every aspect of the garden. We enjoyed seeing
the various fountains and streams. We also walked through the less manicured but natural pathways near
a lake. The gazebo near the lake was a great place to rest in the shade.
Address: 1007 York Street, Denver, CO 80206
Phone number: 720-865-3500
Hours: Thursday–Tuesday 9a.m.–8p.m., Wednesday 9a.m.–3 p.m.
Price: Adults $15; seniors, members of the Military, and Veterans $11.50; children ages 3–15 and
students $11; children age 2 and under, free. General admission does not include special events.
Website: http://www.botanicgardens.org/york-street/helen-fowler-library

Red Rocks Park and Amphitheatre
Red Rocks Park is the point where the Great Plains and Rocky Mountains meet. The 738-acre park is
6,450 feet above sea level.
On our visit, we pulled up to Red Rock Park just before sunset. We hiked up the pathway which is
suspended on the huge rocks. We were amazed by the shapes, color, and size of the rocks. When we
got to the amphitheater we headed up the steps (193 steps from all the way from the bottom to the top,
with 100-foot elevation). The view from above the amphitheater was magnificent in all directions.
The amphitheater, built outdoors in the rock, is open-air and has two 300-foot monoliths. It opened in
1941 and can seat 9,525 people. Famous music concerts are hosted at Red Rock, and when there is a
scheduled event (check online for the show schedule), a show ticket may be required in order to enter.
The visitors' center on premises has exhibits related to the park and amphitheater as well as stores and a
Starbucks.
Address: 18300 W. Alameda Pkwy, Morrison, CO 80465
Phone number: 720-865-2494
Hours: Red Rocks Park is open to the public from one hour before sunrise to one hour after sunset every
day of the year. Vehicles are not permitted to enter the park after 7:30 p.m.
Price: free
Website: http://www.redrocksonline.com/

Day 2
Rocky Mountain National Park is an hour-and–a-half drive from Denver. We entered the park through
Estes Park, a cute town right by the park. There seems to be a mountain with a cable car right in town,
but it was closed last summer due to COVID.
After taking in the breathtaking nature, we left the park and stopped at Ride-A-Kart for some bumping
boats and go-karts.

Rocky Mountain National Park
The famous Rocky Mountain National Park is 415 square miles, with 300 miles of hiking trails. Since we
had a fourth grader, we signed up for the Every Kid in a Park program, a free program for fourth graders
and their family members to gain access to national parks. This summer the program has been extended
to fifth graders as well. To sign up visit https://everykidoutdoors.gov/pass.htm.
For those who want to do a hike that is beautiful but not too strenuous, Bear Lake is an easy path
surrounding a clear lake with magnificent mountains rising all around it, some reaching 12,000 feet high.
Although the Bear Lake loop path is not particularly long, it took us at least an hour because of all the
stops we made to admire the views and take photos (and to feed the chipmunks that begged for food).
We continued on to Alberta Falls Trail to Alberta Falls. The path was mostly through wooded areas and
was not difficult. As we got closer to the waterfall, the trees parted and we enjoyed beautiful views. The
waterfall itself was large, full, and beautiful. We sat near it and enjoyed a snack before heading back. On
the way back we took the free shuttle from the street near the trail to the Bear Lake parking lot, where we
picked up our car.
Address: 1000 US Hwy 36, Estes Park, CO 80517
Phone number: 970-586-1206
Hours: Check online for the current hours.
Price: One-day pass per automobile: $25,covers single, non-commercial vehicle with capacity of less
than 16 passengers. One-day pass per person: $15, applies to walk-ins, bicycles, and non-commercial
groups. If you have a fourth grader you can sign up to get free entrance to National Parks at
https://everykidoutdoors.gov/pass.htm.
Website: https://www.nps.gov/romo/planyourvisit/basicinfo.htm

Ride-A-Kart
Ride-A-Kart has many fun activities catering to all ages. Our family's favorites were the bumper boats and
go-karts. There are also spinning bumper cars, extreme bungee jumping, batting cages, Casey's Train,
and an arcade room. Beyond the boardwalk, which borders Thompson River, is an 18-hole mini-golf
course. The activities are enjoyable and the scenery is superb. The staff of the 50-year-old family-owned
business are warm and professional. It is the perfect place for some wholesome fun when in the Estes
Park area.
Address: 2250 Big Thompson Avenue, Estes Park, CO 80517
Phone number: 970-586-6495
Hours: Check online for current hours at http://www.rideakart.com/hours.html.
Price: Check online for price options at http://www.rideakart.com/rates.html.
Website: http://www.rideakart.com/home.html.

Days 3–4
The plan for Thursday was to visit Pikes Peak and Broadmoor Seven Falls in Colorado Springs. We
planned to visit the Garden of Gods on Friday and take a jeep tour there. Once we heard that Colorado
Springs had a minyan, we decided it was smarter to use my free Marriott night and some points and stay
overnight in the Fairfield Inn. The only thing we had to do for Shabbos upon our return, other than shower
and get dressed, was cook the cholent and warm up the frozen food we'd brought along with us.

Pikes Peak
Pikes Peak, also known as America's Mountain is one of the most visited mountains in the world and a
top tourist attraction for the State of Colorado. It is definitely a deserving destination of the 750,000
annual visitors.
We were told that Pikes Peak is magnificent and worth the drive up, but we didn't know much
more…such as the fact that you need lots and lots of gas in the car to get up and then back down…
Baruch Hashem, we didn't get stuck up there, but it's definitely important to be prepared.
After driving up half an hour through the most breathtaking scenery and breath-stopping steep mountain
roads, we thought we were finally approaching the summit—only to see that it was a parking lot for
stopping. We continued on, driving at the same altitude as the snow-covered mountains, and again we
kept thinking we were reaching the top, only to realize that there was still some more time before we'd
reach the summit.
The views along the way were spectacular. At times, the drive up bordered on petrifying. But oh, was it
worthwhile! When we finally reached the summit after about 45 minutes of driving, we had a limited view
of the area due to construction on the mountain, though we made sure to take a picture near the sign
stating Pikes Peak's altitude of 14,115 feet. Then we began our descent but stopped after a couple of
minutes to enjoy the site of two bighorn sheep grazing near the road.
We stopped at one of the parking areas to enjoy the snowy mountains at the same time as the green
mountains all around. We had an awesome time playing in the snow and enjoying the views before finally
heading back all the way down.
Though it was under construction when we were there, by now the new Cog Railway should be running
as an amazing way to travel up the mountain.
Address: 5089 Pikes Peak Highway, Cascade, CO 80809
Phone number: 719-385-7325
Hours: 7:30 a.m.–6 p.m.
Price: adult (16+) one-day admission $15, child (6–15) one-day admission $5, carload one-day
admission (up to five passengers) $50
Website: https://coloradosprings.gov/pikes-peak-americas-mountain
Cog Railway website: https://www.cograilway.com/

Broadmoor Seven Falls
As we walked from the entrance of the park up to the actual falls, I couldn't help but marvel at the views of
the natural box canyon all around. It's not for nothing that it's called "the grandest mile of scenery in
Colorado."
We crossed a small bridge and entered the tunnel to take the elevator up to see the falls from the
platform across. We then took the elevator down and continued to the base of the Seven Falls, where we
admired the the falls and the curved rock up close.
We began our trek back up the 224 steps huffing and puffing. The steps were right alongside the narrow
but 181-foot-tall waterfalls (we went in August. I assume in the winter and spring the waterfall is a lot
fuller). We stopped at each platform to admire the views and catch our breath. Each of the waterfalls had
a signpost with the name of that particular waterfall and a bit of information about it.
Once we got to the top of the falls we admired the magnificent views all around before heading to the
hiking trails in the woods.
There is a lot of walking throughout the park. From the ticket booth to the base of Seven Falls is 0.8 of a
mile of paved road at a mild incline. There is a tram ($2 cost) inside the park for guests that are physically
unable to walk up to the base of the falls.
Parking for Seven Falls: 1045 Lower Gold Camp Road, Colorado Springs, CO 80905
Phone number: 855-923-7272
Hours: July 1–October 31, 2021: Thursday–Monday 10 a.m.–6 p.m., closed Tuesday and Wednesday
Price: adults (age 13+) $16.50, seniors and members of the Military $13.75, children ages 2–12 $10.50,
children under 2 free
Website: https://www.broadmoor.com/broadmoor-adventures/seven-falls/
Garden of Gods
Garden of Gods, a National Natural Landmark, with its 300-foot sandstone rock formations, is the most
visited site in the Colorado Springs area. The entrance to both the garden and the visitors' center is free,
and there are pathways that lead through the Garden of Gods to the rock formations. It is possible to
drive through the park, though driving through does not always afford the same close-up experience.
Many of the major rocks and formations have names. Some of the more popular ones are Kissing
Camels, Siamese Twins, and Balanced Rock. We especially enjoyed Balanced Rock, which has potential
for great pictures. The nice thing is that it is not forbidden to touch or climb on the rocks.
There aren't many parking spots in the park, but plenty of free parking is available at the visitors' center
across the street. The visitors' center hosts a free museum with lots of information and hands-on exhibits.
Spectacular views of Garden of Gods with Pikes Peak Mountain in the background can be seen from the
second-floor balcony of the center.
Garden of Gods visitors' center address: 1805 N. 30th Street, Colorado Springs, CO 80904
Phone number: 719-634-6666
Park hours: May 1–October 31: 5 a.m.–10 p.m.
Visitor and nature center hours: Memorial Day Weekend–Labor Day Weekend: 8 a.m.–7 p.m.
Price: Both the park and visitors' center are free.
Website: https://www.gardenofgods.com/

Adventure Out West Jeep Tour
There was no better way to tour the Garden of Gods than with the Adventure Out West Jeep Tour. Our
knowledgeable driver and guide was dressed as a cowboy and narrated our drive through the Garden of
Gods. He pointed out all the interesting Red Rock formations and related the history of the park. We had
excellent views from our seats in our open-air jeep. The guide stopped at several points of interest and
great photo spots.
We took the two-and-a-half-hour tour that continues to the foothills of Pikes Peak, driving through the
historic district to the backdrop of continuous entertaining narration. We enjoyed the drive through North
Cheyenne Canyon and then a quick stop at the beautiful Helen Hunt Falls before making our way to the
historic Shortline Railroad and through the century-old tunnels with outstanding views for miles and miles
around. Eventually, we headed back to the Garden of Gods visitors' center after a most enjoyable tour of
the Garden and the Foothills.
Tour starts at: Colorado Springs Visitors' Center, 1805 N. 30th Street, Colorado Springs, CO 80904
Phone number: 719-578-0935
Hours: Check online for tour options and prices.
Website: https://advoutwest.com/jeeps/

Helen Hunt Falls
We visited Helen Hunt Falls while on the jeep tour, before making our way through the old railroad
tunnels. We parked in the lot by North Cheyenne Canon Park's visitors' center and enjoyed the view of
the waterfall and the bridge above it. We then walked along the waterfall to the bridge that crosses over
the top of the waterfall, where we could see close-up views of the water cascading down. The path above
the waterfall continues up to Silver Cascade Falls and features magnificent views of the North Cheyenne
Canon. If we would have had more time in Colorado Springs, I would have returned to hike up past Helen
Hunt Falls. Surprisingly, North Cheyenne Canyon Park and the beautiful waterfall do not have an
entrance fee.
Visitors' center address: 3440 N. Cheyenne Canyon Road, Colorado Springs, CO 80906
Phone number: 719-633-5701
Price: free
Website: http://cheyennecanon.org/visitor-centers/

Manitou Mineral Springs
On Friday before leaving back to Denver, we made a quick stop to check out Manitou Mineral Springs in
the cute town of Manitou Springs. We only got to see and taste the water of one of the springs (Cheyenne
Springs), but I was glad we had that experience. Each spring has a different taste, and it is said that the
waters have healing powers. I'd also heard that the water tastes like seltzer, but I couldn't fathom it until I
tasted it myself. It really does taste like seltzer!
The water is said to be rainwater and melted snow from the surrounding mountains. The water is soaked
into the rock fractures, where it gets heated and mineralized. It gets carbonated in the limestone. Since
the water is underground for very long amounts of time, it is extremely clean and free of contamination.
Each of the eight mineral springs features a pretty structure or statue that has the water coming out of it
on a constant basis. When you visit, make sure you have empty bottles to fill in order to take the unusual
water with you. If I ever get back to the Colorado Springs area, I would definitely visit and taste the water
from the other seven springs.
Address: Map of where the Mineral Springs are located:
http://manitoumineralsprings.org/pdf_files/MSF_Brochure_Outside.pdf. You can pick up a copy at
Manitou Springs visitors' center, 354 Manitou Avenue, Manitou Springs, CO 80829
Price: free
Website: http://manitoumineralsprings.org/

Day 6
On Sunday we headed down south again, this time to Royal Gorge, which is only one hour from Colorado
Springs and two hours and fifteen minutes from Denver. It would have been ideal to have spent that
Shabbos in Colorado Springs, but since we could not confirm that there would be a minyan in Colorado
Springs in time to cancel our Denver booking, we'd spent an enjoyable Shabbos in Denver instead and
traveled south again on Sunday. My daughter recently shared that she loved all the driving in Colorado
because of all the amazing views everywhere. To make the traveling more enjoyable, we played games
in the car, and I also got soft car seat trays to strap around the car seats so the toddlers had somewhere
to play.

Royal Gorge
The Royal Gorge suspension bridge is the highest suspension bridge in the United States. It was built in
1929 and is really amazing. Equally fascinating is the awesome view from the bridge. The Gorge and
surrounding canyons are breathtaking! Just crossing the bridge took us quite a while—we kept stopping
to admire the remarkable views.
After we walked across the bridge, we waited in line for the gondola that crosses the Gorge parallel with
the bridge, but before we made it up it was closed due to strong winds. The zip line was also closed for
the same reason. We were disappointed, but there was no advance warning in the weather forecast. The
Royal Rush Skycoaster ride was open; riders (up to three together) are dangled and flown over the
Arkansas River at up to 50 mph. It looked really thrilling, but the line was long, so we had to pass on that
too.
Tommy Knocker playground is a fun play area for children. There is a two-story climbing structure and a
vintage-style carousel. The Splash Pad and Wax Hands were not open due to the pandemic.
Although we were disappointed that we were unable to enjoy the gondola ride and zip lines, we were able
to take in the most awesome views of the Gorge.
Address: 4218 Co Rd. 3A, Cañon City, CO 81212
Phone number: 719-275-7507
Hours: 10 a.m.–7 p.m.
Price: General admission tickets include the bridge, aerial gondolas (weather permitting), Plaza Theater,
and Tommy Knockerland (seasonal). Extra pay features include Royal Rush Skycoaster, Cloudscraper
Zip line by ZipRider, and Royal Gorge Via Ferrata. Peak season online rates (May 1–September 30):
adults (13+) $28; children ages 6–12, $23; children 5 and under, free. For gondola and ride prices check
online at https://tickets.royalgorgebridge.com/WebStore/shop/ViewItems.aspx?CG=RGBTIX&C=GA.
Website: https://royalgorgebridge.com/

Day 7
Most of Monday was spent packing up our stuff in Denver and loading the car to relocate to Vail. Before
leaving Denver, we stopped at Washington Park for a short paddleboating adventure. After arriving at our
condo in Vail, we unloaded the car and then took our supper food and a disposable grill to Red
Sandstone Park.

Washington Park and Wheel Fun Rentals
The 155-acre Washington Park, with walking paths, flower gardens, and two lakes, has Wheel Fun
Rentals on-site, which offers both bike and boat rentals. There are paddleboats, double paddleboats,
kayaks, double kayaks, canoes, stand-up paddleboards, and cute water trikes (paddleboats shaped like a
bike).
There are also many options for bike rentals, including great family options like Surrey bikes (family bikes)
and double Surrey bikes, which can hold up to six adults and two children under the age of six. They also
have low bikes, two-seaters (not tandems), and regular bikes for rent. There is a path around the lake that
is perfect for the rental bikes.
Address: S. Downing St. and E. Louisiana Avenue, Denver, CO 80210. Wheel Fun Rentals: 691 South
Humboldt Street, Denver, Colorado 80209
Phone number: 303-505-3695
Hours: Check online for Wheel Fun Hours at https://wheelfunrentals.com/co/denver/washington-
park/contact/.
Price: bike rental prices: $12–$36 per hour, depending on what you rent
Washington Park website: https://www.denver.org/listing/washington-park/6828/
Wheel Fun website: https://wheelfunrentals.com/co/denver/washington-park/

Red Sandstone Park
Red Sandstone Park is tucked away behind some trees on North Frontage Road. There is a colorful
wooden playground which includes one main climbing structure and several smaller ones and swings.
There are also picnic tables and a grill in the area. There is a volleyball court and some grassy areas in
the area as well. Vail playgrounds are famous for their exciting designs, and this park is no exception. An
added bonus is the view of the magnificent mountains rising behind it.
Address: 715 N. Frontage Road West, Vail, CO 81657
Hours: open 24 hours
Price: free

Day 8
During our stay in Vail, we had to improvise due to wildfires in many areas in Colorado. We had planned
on two famous hikes farther west that are supposed to offer out-of-this-world views—Maroon Bells, which
is not far from Aspen, CO, and Hanging Lakes and the Glenwood Caverns Adventure Park. Both were
closed due to the raging fires. Reservations are required for both hikes and times sell out quickly.
We ended up heading back to Colorado Springs for the night on Tuesday. This time we stayed at the
famous Broadmoor Hotel. After we arrived, I went with the older kids on the most incredible three-hour zip
line tour in the Canyons near Broadmoor Seven Falls, while my husband and the younger children went
paddleboating on the lake outside the hotel.

The Broadmoor Soaring Adventures
The views we saw from the Soaring Adventure zip line tour would have been mesmerizing even from the
ground, but when seen while zipping on lines between 300 and 1,800 feet high, they are truly
breathtaking. I've been on many zip lines, but this one is by far the most awesome.
There are three options of courses: the three-hour Woods Course, which takes place mostly in wooded
areas; the three-hour Fins Course, aka The Grandest Mile of Scenery in Colorado; and a four-hour
combination course of both the Woods Course and Fins Course.
Before beginning our adventure, we met our two professional and friendly guides at the East Lot of the
Broadmoor Hotel. After signing waivers, we were weighed to check that we were between 90 and 250
pounds, and then we were driven to a path in the woods. We hiked down the path for a few minutes until
we got to a little wooden hut, where we were fitted with our harnesses and other equipment. After
receiving instructions, we did a practice run and then started on our first real zip line. The zip line course
is designed in a way that each zip line is progressively more exciting or major.
Midway we were treated to the challenge of crossing two suspension bridges (that was the scariest for
me because it isn't over as quickly as the zip lines). The views all around were astounding! Once we
finished crossing all five zip lines and the two suspension bridges, our adventure finished with a controlled
180-foot rappel. The Soaring Adventure was definitely a most incredible experience!
Address: The zip lines start behind the park and end inside. Patrons must park at the Broadmoor East
Lot just off of Lake Ave at 6 Lake Ave., Colorado Springs, CO. 80906. Parking is free of charge.
Phone number: 844-876-4968
Hours: Broadmoor Soaring Adventure offers zip line tours on the hour and half hour from 9 a.m.–3 p.m.
Broadmoor Soaring Adventure ticket booth is open from 8:30 a.m.–5 p.m. Check online for availability at
https://s3.amazonaws.com/checkout.xola.com/index.html#buttons/57f5510c926705091c8b45cd?cache=1
475694870197.
Price: The Woods Course $189, The Fins Course $233.10, Woods-Fin Combo Course $327.60
Website: https://www.broadmoor.com/broadmoor-adventures/soaring-adventures/

The Broadmoor Hotel
The hallway in The Broadmoor West features a display of pictures of famous people who stayed in The
Broadmoor over the years, including former presidents of the United States, famous sports personalities,
famous politicians, movie stars, and more. It is not surprising that all these famous people chose The
Broadmoor. This century-old five-star, five-diamond hotel is famous for its above-and-beyond service and
amenities which make guests feel pampered and special.
The accommodations in the many buildings and wings that make up The Broadmoor are all outstanding,
each in its own way. The hotel offers Classic Rooms, Superior Rooms, Premier Rooms, and ADA Rooms
as well as suite options. My family stayed in adjoining rooms in the West Building. The decor of our
spacious rooms was magnificent. The beds were extremely comfortable, and the couches allowed for
extra chilling areas. Each room had a coffee machine and refrigerator. The bathrooms were spacious as
well.
The Broadmoor has everything on-site. In fact, my aunt said she once stayed there for two weeks and left
only once, to see Pikes Peak. There are a variety of shops, an amazing spa, and a salon. I was told that
The Broadmoor can arrange for kosher food to be brought in from Denver. (Our stay was booked at the
last minute, so we could not take advantage of that option.)
There is never a dull moment at The Broadmoor. It is extremely family friendly, with a lot of activities on-
site. In addition to the indoor and outdoor pools, there is paddleboating on the lake as well as famous golf
courses, tennis courts, and the Penrose Heritage Museum. Biking and horseback riding are offered as
well. The Broadmoor Outfitters professional guides offer some really amazing outdoor adventures. We
went fly fishing and on the Soaring Adventure.
The descriptions above only scale the surface of what makes The Broadmoor such a unique and amazing
place. I generally don't visit places more than once, but The Broadmoor definitely warrants a return trip!
Exclusive deal: Mention code "Travel Now" when booking and get a free room upgrade when available.
If booking online add "Travel Now" to the comments of your reservation to get a free room upgrade if
available.
Address: 1 Lake Avenue, Colorado Springs, CO 80906
Phone number: 866-575-2914
Price: Check online for availability and prices at https://www.broadmoor.com/accommodations/.
Website: https://www.broadmoor.com/

Day 9
Wednesday morning, we took it easy and enjoyed the grounds of The Broadmoor. At noon we headed
out to Great Sand Dunes National Park. Ever since I'd heard about the sand dunes and the possibility of
renting sleds and sandboards there, I was fascinated by the idea, and so were my kids. Great Sand
Dunes National Park is two hours and 45 minutes from Colorado Springs and three hours and 15 minutes
from Vail. The reason we left at noon is because it gets extremely hot in the summer (think desert) and it
is advisable to visit either before 11 a.m. or after 4 p.m. We drove an extra half hour each way to stop by
the sled rental.
Great Sand Dunes National Park was definitely one of our favorite trips. As we were leaving at dusk,
many people were arriving with chairs and blankets to camp out in the open fields to observe the meteor
showers forecasted for that night. We drove home through the dark roads and stopped to admire the sky,
which was full of stars as far as the eye could see. It looked like a planetarium in real life. We even
spotted some shooting stars. It was a sight to behold.

Great Sand Dunes National Park
When we arrived in the late afternoon, the weather was perfect and breezy. After parking, we took our
sleds and started hiking toward the sand dunes. It was difficult to walk so far through sand. Medano
Creek was dried out in August, so there was much more sand to shuffle through and no fun splashing in
the water for us. Once we made it to the dunes, we were able to enjoy sledding down the hills and just
watching the splendid scenery. We felt like we could just sit there and gaze at the sand dunes forever.
We watched the sun set as it cast its magnificent hues over the hills and mountains. Then we started
heading back before it got really dark—we still had a four-hour drive ahead of us. We got back at 1 a.m.,
exhausted yet exhilarated by this unique experience.
Address: 11999 State Highway 150, Mosca, CO 81146
Phone number: 719-378-6395
Hours: open 24 Hours
Price: Oversized vehicle, including 15-passenger vans, small buses, etc.: $15 per passenger(passengers
under 16 are free). Valid for seven days.
Great Sand Dunes Annual Family Pass: $45. Covers one family's entrance for 12 months from time of
purchase. Valid for two adults with signatures plus others in vehicle.
National Park Passes can be used at this park.
Website: https://www.nps.gov/grsa/index.htm

Kristi Mountain Sports
Many people make the mistake of bringing their own snow sleds to Great Sand Dunes National Park, but
they do not work on the sand. Special wooden sand sleds are needed, and they also need to be waxed
with a small chunk of wax provided with each rental.
The staff at Kristi Mountain Sports was extremely nice and helpful. They have adult sleds, junior sleds (for
up to 70 lbs.), and sandboards for rent. At first we were just going to rent sleds, but the salesperson at
Kristi advised us that it is easy to learn to use the sandboard, so we took one of those too. Sandboards
are used while in a standing position, similar to snowboarding (though they are not as quick), and they go
down hills faster than the sleds.
Address: 3223 Main Street, Alamosa, CO 81101
Phone number: 719-589-9759
Hours: Monday, Tuesday, Thursday, Friday 9 a.m.–5 p.m.; Sunday 10a.m.–5p.m.; Wednesday closed
Price: All rentals are $18/day (per item) and include a puck of specialty wax for each piece of equipment.
Website: http://www.kristimountainsports.com/

Day 10
After arriving back in the wee hours of the morning, we got a late start on Thursday and decided to stay
local. We went up Vail Mountain and then spent some time at the cute Pirate Ship Playground. After
walking through the picturesque Vail Village right at the bottom of the mountain, we headed to the
beautiful Betty Ford Alpine Gardens.

Vail Mountain
Vail Mountain is a popular upscale ski destination with many beautiful hotels and condos right at the base
of the mountain. In the summer there are activities to be enjoyed on the mountain.
There are two cable cars that can be ridden up from the village below. Eagle Bahn Gondola is right at the
edge of the village on Frontage Road, and Gondola One can be taken from in the middle of Vail Village.
We rode up the Eagle Bahn and then hiked for half an hour (with stops to enjoy the views) to Gondola
One, then took the cable car down to the village. We then got on a free bus/shuttle that took us back to
the Eagle Bahn station.
Gondola tickets up the mountain are quite pricey at $44 an adult ticket and $28 a child ticket (ages 5–12).
One perk they do have is that a child gets to ride free with an adult ticket purchase. For those who are
adventurous, if you hike up the mountain (it is very steep—we started and gave up quickly), you can take
the gondola down for free.
Vail Mountain is a popular destination for mountain biking. There are mountain bikes available for rent at
the bottom which can be transported on the gondola for a fee. We didn't try mountain biking, though I
heard it's absolutely thrilling.
During a regular summer season there are additional adventure activities such as zip lining, aerial
adventures, bungee jumping, and the Forest Flyer Mountain Coaster. This past summer the only activity
that was open was the Forest Flyer Mountain Coaster. The Mountain Coaster track runs through the
forest but is extremely expensive. In order to ride the Forest Flyer, which was priced at $30 per person,
you need to first purchase a ticket for the gondola, totaling a whopping $70 for a short ride on the
Mountain Coaster. We opted to ride the Mountain Coaster at the nearby Copper Mountain, which only
costed $25 per person with no additional fees and is one of the longest in North America.
Eagle Bahn Gondola address: 699 I-70 Frontage Road, Vail, CO 81657
Phone number: 970-306-0946
Hours: Check online for hours of each activity.
Price: Check online for prices for each activity.
Website: https://www.vail.com/explore-the-resort/activities-and-events/summer-activities.aspx

Pirate Ship Playground
Vail is known for its amazing playgrounds. Pirate Ship Playground is especially popular due to the large
wooden pirate ship on which children can climb, run, and slide. Pirate Ship Playground is imagination
heaven—there are so many possibilities for pretend on such a ship! There are also a few additional
activities such as baby swings, a large dragon, and a small wooden rowboat to play on. There are picnic
tables and benches, and a babbling brook runs along the back of the park.
Address: 9 Hanson Ranch Road, Vail, CO 81657
Price: free
Website: https://www.vailgov.com/departments/public-works/parks-recreation-and-open-space/parks-
and-playgrounds

Betty Ford Alpine Gardens
Betty Ford Alpine Gardens is definitely worth a visit if you are in the Vail area. It is a serene garden of
natural beauty with magnificent views of the mountains rising just behind the park.
On our visit, after parking we walked along the soccer field and entered the garden at the North Garden
entrance. We followed the paths, which crossed over meandering streams. There were pretty flowers
sprinkled throughout, but the main focus was the waterfall with two bridges cutting across. There are
steps made of rocks leading to the bottom. The children's garden near the museum and gift shop had a
variety of colorful flowers. A two-story playground is adjacent both to the garden and the visitors' center. It
features a large climbing structure, and there are also picnic tables nearby.
Address: 522 S Frontage Rd. East, Vail, CO 81657
Phone number: 970-476-0103
Hours: dawn to dusk
Price: free
Website: http://bettyfordalpinegardens.org/

Day 11
We really wanted to try the famous Vail Pass biking route, but since there were so many tourists in
Colorado, the bike rentals that do the Vail Pass tours were all sold out. We ended up renting bikes in Vail
and biking on the Gore Valley Trail. Bike rentals for our family ended up costing us quite a bit (though the
Vail Pass biking tours are a lot more expensive). We really enjoyed ourselves on the beautiful scenic path
we took. When we were done, we headed back to our condo and enjoyed a swim in the pool when it was
unoccupied.

Gore Valley Trail
We rented bikes from three different rentals (it's a long story…electric bike from one place, regular bikes
from another, and a baby trailer at the third place) in Vail Village for half a day. Staff at each rental
suggested that we bike on the Gore Valley Trail in East Vail. After following their suggestion, I definitely
understood why. We enjoyed the magnificent scenery and the babbling brook running alongside the trail.
The trail was not very difficult; certain spots were a bit uphill but not too hard. There are benches
throughout that are great for a quick break, and we enjoyed cooling off by dipping our feet in the cool
mountain water. We also refilled our water bottles with the cold and tasty water. This is a great option for
biking on your own without an organized tour or group.
Most of us used regular bikes, but we also rented one electric bike with a seat in the back from Pedego
Vail. It was an extremely practical solution for our eight-year–old, who would not have been able to keep
up with everyone else otherwise.
Bike Rentals in Vail
Buzz's Board
Address: 302 East Gore Creek Drive, Mill Creek Court, Vail, CO 81657
Phone number: 970-476-3320
Website: www.BuzzVail.com
Prices: Call or check online for prices.

Venture Sports
Address: 298 Hansen Ranch Road, Vail, CO 81657
Phone number: 970-477-8095
Website: www.avonventuresports.com
Prices: Call or check online for prices.

Pedego Vail (electric bikes)
Address: 225 Wall Street, suite 102A, Vail, CO 81657
Phone number: 970-470-4180
Website: www.pedegovail.com
Prices: Call or check online for prices.

Day 13
The forest fires in Colorado were raging, and we could not go to some of the places we planned to visit.
As a result, we ended up staying much more in the Vail area. On Sunday, we headed to the nearby town
of Breckenridge. First we enjoyed an activity or two at the Breckenridge Mountain Fun Park, and then we
took a ride on the free BreckConnect cable car which is used to transport people from one area in
Breckenridge to another. After riding up the mountain, we drove down to the town. We walked along the
River Walk and then drove to the cute High Line Railroad Park. On our way back to Vail, we detoured to
Sapphire Point Overlook, where we had a fun surprise—I don't want to give it away so read more below.

Breckenridge Fun Park
Breckenridge Mountain, under the same ownership as Vail Mountain, is a popular skiing destination with
mountain activities during the summer. The BreckConnect Gondola stops right at the mountain base,
where the activities and hiking paths are located.
During our visit, only a few attractions were open, including the scenic chairlift that goes up to Peak 8, the
alpine slide which seemed to be very popular judging by the long lines, and the Goldrunner Mountain
Coaster. There was no wait there, so we enjoyed riding the 2,500-foot mountain coaster through the
forest.
Address: 1599 County Rd. 3, Breckenridge, CO 80424
Phone number: 800-789-7669
Hours: 9:30 a.m.–5 p.m.
Price: Check online for the price of each activity.
Website: http://www.breckenridge.com/

BreckConnect Gondola
I couldn't believe it when my friend told me that the BreckConnect Gondola is free to ride. I had to check it
out myself. I was pleasantly surprised to find out that she was absolutely correct. The 121 gondola cars
transport people 391 feet from the town to the mountain on the 7,592-foot-long system. We had an
enjoyable and scenic ride on the BreckConnect without having to break the bank. It was both relaxing and
a great method of transportation between downtown, Shock Hill, and Peaks 7 and 8.
First we rode to Peaks 7 and 8 and spent time on the mountain coaster, and then we went down to the
town before riding back up. I loved watching the way the gondola cars passed right over the streets so
close to the cars.
Address: 170 Watson Avenue, Breckenridge, CO 80424
Additional stops: Shock Hill, base of Peak 7—Crystal Peak Lodge, base of Peak 8—One Ski Hill Place
Phone number: 800-536-1890
Hours: Due to COVID restrictions, gondola hours have changed and will continue to change based on
current and developing health orders. Call for updated hours, restrictions, and any other information you
may need.
Price: free
Website: https://www.breckenridgeresortmanagers.com/breckenridge-gondola

Breckenridge Town and River Walk
We really enjoyed walking along the River Walk in Breckenridge. We started out at Breckenridge Alpine
Garden, a small area with flowers and plants as well as pathways and benches right alongside the Blue
River. We enjoyed dipping our feet into the refreshing and clear water before walking along the river
toward Blue River Plaza. All along the way there were pretty flowers, and here and there we saw people
cooling off in the shallow river. Blue River Plaza seems to be a very popular spot to enjoy the water.
We enjoyed a cute little play area with a slide that looks like it is carved out of stone. There was an
abundance of cafés, shops, and restaurants in the area. Main Street was closed to vehicles, allowing
pedestrians using the road to walk through and enjoy the almost festive environment in Breckenridge.
Blue River Plaza address: 137 S. Main Street, Breckenridge, CO 80424
Breckenridge Alpine Garden address: 150 W. Adams Avenue, Breckenridge, CO 80424
Price: free
Website: https://www.townofbreckenridge.com/

High Line Railroad Park
High Line Railroad Park is an exciting park with a twist. The park is railroad themed, with large, genuine
narrow-gauge historical train cars parked right outside the park. Climbing is not allowed on the actual train
cars, but many climbing opportunities present themselves in the playground. There is a big climbing
structure with slides and other playground equipment modeled after the big black train car parked in front
of the park. There is even a pretend ticket office where children can pretend to sell and buy train tickets.
There is also a small museum with lots of information about the history of Breckenridge and how it
affected the town. The museum was closed when we visited.
High Line Railroad Park is great for both children and adults who enjoy trains and their history.
Address: 189 Boreas Pass Road, Breckenridge, CO 80424. Parking is at the far side of the ice rink.
Phone number: 970-453-9767
Price: The park is free. The museum is free, with a $5 suggested donation.
Hours: Park and playground: open during daylight hours, weather dependent. Museum: see website.
Website: https://www.breckheritage.com/high-line-railroad-park-and-museum

Sapphire Point Overlook
While scrolling through some points of interest on Google Maps, I chanced upon Sapphire Point
Overlook, a 9,500-foot overlook point with magnificent views. I decided it's definitely worth a small detour
on our way back from Breckenridge to Vail.
After hiking down the sandy path for a few short minutes, we arrived at a clearing with a breathtaking view
of the Dillion Reservoir and the Gore and Tenmile Mountain Ranges. There were three posted signs with
information about the area. There was also a path that continued in the woods alongside the water.
While enjoying the views all around, we noticed many chipmunks scampering around. We also saw a
family with sunflower seeds on their palms sitting quietly while the chipmunks approached and ate from
their offerings. The family with the seeds offered their leftovers to us before they left, and we had a blast
feeding the chipmunks. As we were quietly waiting for chipmunks to come eat the seeds, more people
arrived with seeds. It seemed to be quite well known that the chipmunks hanging around at Sapphire
Point are not very afraid of people. Feeding the chipmunks added a fun dimension to the natural beauty
at Sapphire Point Overlook.
Address: Swan Mountain Road, Dillon, CO 80435
Price: free
Website: https://www.fs.usda.gov/recarea/whiteriver/recarea/?recid=40879

Day 14
During our last day in Colorado we went kayaking on the Dillion Reservoir in the town of Frisco. Then we
rode the Mountain Coaster at Copper Mountain before starting to pack and prepare for our flight the next
day.

Frisco Bay Marina and Boat Rentals
Frisco Bay Marina is located in a beautifully kept area on the shore of Dillion Reservoir. Within Bay
Marina is Marina Park, a grassy area with a playground, walking paths near the water, and a small beach
area for swimming.
Near the beach area is the boat rental office. There is a variety of types of boats available for rent
including kayaks, tandem kayaks, canoes, stand-up paddleboards, and motorized pontoons. It is
advisable to book a boat in advance because the place is very popular and there may not be boats
available.
The 3,300-acre Dillion Reservoir is magnificent. The farther out we went, the more we were able to enjoy
the views of the mountains rising all around the lake. We were reluctant to head back when our time was
up; we had an awesome time out on the water.
Address: 267 Marina Road, Frisco, CO 80443
Phone number: 970-668-4334
Hours: Call for current boat rental hours.
Price: Receive a 5 percent discount if booking online more than 24 hours in advance at
https://web2.vermontsystems.com/wbwsc/cofriscowt.wsc/search.html?module=RN&webScreenDesign=w
ebboatscreen&features1=All%20Paddle%20Sports&SessionID=f2156e5b-20af-d384-1314-
7ac1c817a243.
Website: https://www.townoffrisco.com/play/frisco-bay-marina/general-info/

Rocky Mountain Coaster
The Rocky Mountain Coaster is one of North America's longest Alpine coasters. The 5,800-foot mountain
coaster allows you to race down at up to 25 miles per hour while descending 430 vertical feet at an
average grade of 10.9 percent. The coaster takes you through a forest area with views of the surrounding
mountains in the distance. The best part is that unlike other mountain coasters in the area, the Rocky
Mountain Coaster is long enough to really enjoy the trip without feeling like the ride is over before you
even started.
I was surprised to discover that tickets for the Rocky Mountain Coaster are very reasonable. One ride on
the coaster is only $25. Drivers must be at least nine years old and 52 inches tall. Children ages three to
eight between 36 and 52 inches tall can ride for free with a paying adult. The coaster can be enjoyed all
year round.
In addition to the coaster, there is a scenic chairlift as well as hiking paths, bike rentals, and bumper boats
in the West Lake. There are great options for day passes which include multiple activities.
Address: Copper Circle, Frisco, CO 80443
Phone number: 970-968-2318
Coaster hours: Check online for current operating hours.
Rocky Mountain Coaster prices:
One ride: $30. Driver must be at least 9 years old and 52 inches tall. Children must be 3 years or older
and a minimum of 36 inches tall. Passengers ages 3–8 must ride with a driver 16 years or older.
Passengers must be between 36 and 52 inches tall.
Individual day pass: $79. Includes unlimited scenic chairlift rides, two runs through the Woodward
Wrecktangle, one ride on the Rocky Mountain Coaster, two rides on the Quad Power Jump, unlimited
paddleboat sessions, unlimited attempts on the climbing wall, one ride on the go-kart track, and two rides
on the zip line.
Family day pass: $249. Includes unlimited scenic chairlift rides for four people (eight runs total) through
the Woodward Wrecktangle, one ride on the Rocky Mountain Coaster for four people (four rides total),
eight rides on the Quad Power Jump, unlimited paddleboat sessions, unlimited attempts on the climbing
wall, one ride on the go-kart track for four people (four rides total), and eight rides on the zip line
Website: https://www.coppercolorado.com/things-to-do/activities-amenities/coaster

Day 15
All good things come to an end, including our amazing Colorado trip. We packed the car in Vail and
headed to Denver, where we returned the things we borrowed and made our way to the airport to return
our car and fly back home with unforgettable memories to last a lifetime.