Honey Salmon With Mango-Beet Salsa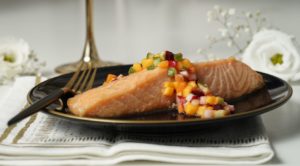 This salsa pairs up well with the sweet fish. Simple and festive!
Yield: 6 servings
Ingredients:
¼ cup honey
1 tablespoon oil
1 tablespoon mustard
6 salmon fillets
2 mangoes, diced
3 Kirby cucumbers, diced
4 radishes, diced
1 small beet, cooked, peeled, and diced
Directions:
In a medium bowl, combine honey, oil, and mustard. Place salmon inside and refrigerate for 1 hour.
Preheat oven to 350°F.
Bake salmon covered for 18 minutes. Uncover and bake for 5 minutes.
In a bowl, toss mangoes, cucumbers, radishes, and beet. Serve over salmon.
Note: The beets bleed their color easily, so only add in prior to serving.