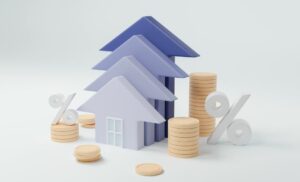 The present, the prospects, and the projections
Elisheva Braun
While throngs of eager buyers are snapping up local homes, thousands more are cramped into too-small spaces, trapped between pricey real estate, a historic mortgage rate jump, and a tight supply-demand tug-of-war.
What does the housing market look like today? Where is it heading? And how can priced-out families finally become homeowners?
What's happening?
"The market isn't crashing or dying as some people think it is," real estate agent Shea Spiegel maintains. "Prices are a bit lower than they were last year, though not remotely as low as they were during covid. It isn't a buyer's or a seller's market right now," he adds. "Every neighborhood and every deal is unique. Recently, I'vegotten below asking price for buyers and above asking for sellers."
"People can start to finally buy without that crazy, madhouse pressure," says broker at Four Points Realty Duvi Holtz. "There are definitely fewer bidding wars, and some homes aren't gone in a day anymore. It appears that we're slowly returning to normal real estate-buying practices."
Duvi is referring to the buying frenzy of recent years, when buyers often had to blindly throw in their highest bid while having no idea as to the offers they were competing against.
"Now that there's a little pause, there may be room for some negotiation on price, so serious buyers are taking advantage of the less-strained market," Duvi says. "Many of the country's housing markets are slumping now, in part affected by rising mortgage rates. However, we've seen in the past that the frum community is often affected differently by shifting global economics."
As the housing market finds some much-needed balance, potential buyers feel the pinch of higher mortgage rates. In its largest jump in 20 years, interest rates more than doubled from about 3 percent last year to just under 7 percent last month. Down to under 6 percent today, relief just might be in the pipelines for homebuyers.
Where is the market heading?
When Duvi joined the real estate industry approximately 20 years ago, buying in Lakewood's neighboring towns was not common.
"Around eight years ago, a nice four-bedroom Jackson colonial on an acre of property right outside Lakewood came on the market asking $330,000. I showed the house to an experienced real estate investor who was looking to buy something for her married daughter. She was planning to move in within three to five years, and in the interim, she would rent it out. I told the buyer that although this was in Jackson, I really felt it would be a great-value purchase, and so, she signed the contract.
"While we were under attorney review, the buyer called me, frantic. 'I want to back out of the deal,' she said. 'Everyone I am speaking with tells me I'm crazy for buying this. The neighborhood is too far out. It will never become popular, and my kids will never move there. I certainly won't make any money off the house!'
"At that point, I saw enough signs pointing to heavy growth coming, and I told her, 'If in five years the house hasn't gone up in value by at least 10 percent, I will personally buy it off of you!'
"She agreed to go ahead with the deal. Boy, have times changed! Today, the house is worth $850,000 plus. By the way, the buyer's daughter has been living in it for the last five years."
Local real estate has changed dramatically in the past decade; it's only logical to assume that it will continue to surprise us. On the heels of a volatile few years, 2023 promises to be an interesting time for housing.
As far as rentals go, "because people need to live somewhere, logically, rental prices are driven up when the real estate-purchase market slows down," says Duvi. "However, a lot of investors bought homes over the last year and a half, so the pressure on the rental market is alleviated to some extent, with more supply."
The exception seems to be Yeshivah-area rentals, whose prices don't appear to be dropping significantly, due to the massive demand for centrally located apartments. BMG's new construction will help increase that supply.
Duvi is quick to add, "We definitely aren't always right in predicting the future. Timing the ups and downs of the real estate market can be tricky. Right now, predictors point in both directions. On the one hand, high mortgage rates and a struggling economy suggest that people will buy less. On the other hand, we've seen that residential housing often bucks the trend, especially locally, since there is a steady stream of fairly strong demand."
Fluctuating mortgage rates
With everyone scrambling to plot the market's trajectory, Fannie Mae and Freddie Mac, the government-regulated companies that guarantee most mortgages in America, estimate that they'll hover at about 6 percent.
Can the recent decrease in mortgage rates be attributed to an impending recession?
Ari Coopersmith, manager of the FM Home Loans Lakewood Branch, doesn't think so. "Mortgage rates have been rising since the start of 2022 thanks to the Federal Reserve raising interest rates to combat inflation. When a recent consumer price index report came in with lower-than-expected inflation, mortgage rates dropped, even though the Fed recently increased them for the sixth time. Mortgage rates are impacted by the federal funds rate, which is the interest rate banks charge each other for lending money. When the Fed increases interest rates, banks' borrowing costs increase. To offset this hike, they increase the rates on their loan products.
"But the federal funds rate is one of many factors influencing mortgage rates. The bond market also plays a role. Most banks do not hold the mortgages they underwrite. They package them into a product called a mortgage-backed security and sell them to investors. Since bond buyers are looking for a competitive return on their money, the interest rate on mortgage-backed securities must be high enough to attract buyers."
The question is, how high?
"The most common benchmark lenders peg mortgage rates to is the 10-year Treasury bond yield. Because of this, the interest rate on the mortgage-backed securities has to be higher than the 10-year Treasury yield since there is more risk associated with the mortgage-backed security than with a Treasury bond.
"Here's another critical factor is the housing market: if home prices are so high that buyers decide to rent instead of buy, this lower demand impacts rates. This is because if very few people are buying homes, rates must drop to encourage buyers to come to the market. The same is valid on the other side as well. If many consumers want to buy, this can drive up mortgage rates.
"Unemployment also plays a role. If people have lost their job, they are unlikely to purchase a home. Fear of losing a job is also a factor. With talk of a recession coming, people will not make a large purchase if they think they might be out of work soon."
Rich man's market
With so many clamoring for hardwood-and molding-outfitted Lakewood homes, are lower-income voices being drowned out?
"It's become very difficult for the average yeshivah'man to buy in Lakewood unless he's willing to make significant sacrifices on the size and condition of the home," says Duvi. "As an example, we recently sold an older Lakewood townhouse to a kollel family. The place needed of a lot of renovation, but the guy was handy, and he planned to do the work himself. Still, the price he paid would have gotten him a much larger, more practical house a little further out. But for this family, the number-one priority was living in the ihr haTorah."
As far as new construction, beautiful new duplexes and single-family houses seem to be the only option in Lakewood's mostly homogenous construction.
"A duplex is an attractive choice for those who can afford the payments. It offers a built-in rental, a practical layout designed to house a full family, and often, a very desirable location. The tradeoff, of course, is the price tag of over a million dollars," Duvi says. "However, these homes don't need extensions or improvements as many of the less expensive ones do, so the numbers may even out at the end."
Regardless, there's not much new construction happening in Lakewood at the present, so in that aspect it is a tough market. Many of the Lakewood deals are happening off market. "If you want to buy here, it might be wise to use a realtor who's experienced in Lakewood real estate," Duvi says.
Investment properties
Got extra cash? Shea says it's a crime to let that money sit in your account "collecting pennies every year."
"If you can afford the down payment and you can ensure that the rent will cover the mortgage, residential real estate is a relatively safe equity-building investment. It has the added benefit of allowing the option to later move in or sell."
Bear in mind that you need to have enough liquidity for a down payment, closing fees, and maintenance and repair costs. Not every unit is rented out all the time, so plan for a vacancy.
Duvi says, "Some of the best buying opportunities for investments are when the market is down. Many experts only buy when an industry is lagging, as long as the fundamentals are solid and they believe in the investment's viability. You will have to deal with a higher interest rate and the cloud of uncertainty of the overall economy, but overall, this might be the opportunity many have been waiting for to buy an investment home."
"I recommend that investors buy deep in Jackson and Toms River, where they aren't competing with end users, prices are still affordable, and home values are likely to increase. When mortgage rates stabilize, you can refinance if you're eligible," says Shea.
The "mort" in mortgage
Mortgage has death in its etymology, and anyone with payments they can't afford knows why. Loan officer Ari Coopersmith sheds some light on who should—and who shouldn't—shoulder this long-lasting liability.
"Fanny Mae qualifying guidelines are designed for those who educate their children in the public school system, so it's important to consider tuition costs even when one meets qualifying requirements."
The saying goes, "The older generation's dream was to pay off the mortgage; the younger generation's dream is to get one." Why is it so hard to qualify for a mortgage today?
"Mortgage interest rates have been steadily rising this year," Ari says. "Despite a recent drop, rates remain above 5 percent and could go higher in the coming months. Higher rates can obviously have a big impact on your monthly mortgage payment.
"But they can also have another adverse consequence for would-be home buyers: In many cases, it becomes harder to qualify for a home loan when rates have risen. Home prices have risen sharply in the past year and are now at record highs in many markets. As a result, borrowers need to take out larger loans in order to purchase a home. This presents a problem, as lenders usually require people who are looking for bigger loans to have higher incomes or to be able to put down larger payments. As a result, some would-be buyers are finding that they don't make enough money or have enough cash to get approved for a mortgage."
In cases like this, Ari recommends looking for a less expensive home and reconsidering what you need in a house. If you're willing to sacrifice a few amenities or features in a home like a big backyard with a pool or an extra bedroom, you might be able to make it work. Other ways to traverse this scenario include looking for a home in one of the up-and-coming neighborhoods.
"Banking on a specific amount of income from a rental unit can be risky," says Ari. "In the last several years, as home prices have steadily increased, the demand for rentals has gone up dramatically. Despite that, every market goes in cycles, and when more homes and apartments become available; you might have to lower your asking rental price and you might even have a vacancy for several months. Be conservative when counting on tenants. When calculating your income, factor in 25 percent vacancy and see if you can still afford the mortgage.
"Additionally, for qualifying reasons, many applicants need loan cosigners these days. However, even with that safety net, every person must decide what monthly payment they are comfortable with paying, as the cosigners usually do not assist with actually paying the loan. There are several assistance programs which have become more popular in the current higher-rate environment."
Hold out or jump in?
Moshe and Tzippy Berger, whose kollel check and paycheck total $5,000 a month, are living in a basement rental with their growing family. Claustrophobia, a recurring mold issue, and some subtle side-eyes from the landlord notwithstanding, the Bergers feel ill-equipped to buy a house.
And so, they stay. And stay. And stay.
The Voice asked the experts for advice to guide the family and the many kollel, klei kodesh, and just plain low- or middle-income families struggling just like them.
Shea Spiegel urges the Bergers to disregard the speculation and social pressure that can push people to buy a home when they shouldn't.
"The fact that your friends and relatives are buying doesn't mean that you should run out and find a house. The fact that prices may increase or fall in the future shouldn't dictate whether you do or don't purchase. We don't know what the future holds, so you need to work with what your needs are right now. If you need a house today and you can afford to meet the payments, buy it. If it doesn't make sense for you, keep renting. If mortgage rates go up after you purchase, you'll be thrilled you locked in today. If they go down, you can refinance."
Shea advises that the Bergers calculate the difference between rent and mortgage costs. "Rents are high, and many people are paying $3,000 a month renting a house when they might be able to push themselves to pull together the money for a down payment and then pay $3,400 for a mortgage."
"For lots of people, it will often be somewhat of a stretch to pay their mortgage, so it's imperative to have a plan," says Duvi Holtz. "Can you do it? If times get tough, how much extra cash can you pull together each month? Figure out that number and stick with it."
Shea cautions buyers against waiting for the raise to come or the side hustle to take off. "By the time your income increases, your expenses will have risen and the same house will cost more. As time passes, I am seeing more and more truth to the opinion that it's better to buy a home when you're younger if possible. Tuition, groceries, and living expenses increase over time, and it's hard to start paying a mortgage at that stage. One day, you're going to have to pay the money; you might as well start enjoying your home now."
Shea's tip: "Make a list of priorities including neighborhood, price, size, condition, and proximity to family. It's rare that people get everything you want. I tell clients that if 80 percent of the list is checked off, it's a 100 percent success."
"I don't want to make it sound like it's the perfect time for buyers right now and everyone should run out and buy a house," is Duvi's disclaimer. "But the certainty of today might well be worth avoiding the uncertainty of the future. For the first time in approximately a year and a half, you may not be priced out of the market. You might finally have the opportunity to buy something of clear value. If you haven't done so yet, get preapproved for a mortgage, put your papers in order, scout out potential neighborhoods that suit your needs, and be as ready as you can. It may be time to start house hunting."
Sidebar
Qualifying for a mortgage
Ari Coopersmith shares, "To calculate what you can afford, we take into account a few primary items, such as your household income, monthly debts (for example, car loan and student loan payments), and the amount of savings available for a down payment. As a home buyer, you'll want to have a certain level of comfort in understanding your monthly mortgage payments. While your household income and regular monthly debts may be relatively stable, unexpected expenses and unplanned spending can impact your savings.
"A good affordability rule of thumb is to have three months of payments, including your housing payment and other monthly debts, in reserve. This will allow you to cover your mortgage payment in case of an unexpected event."
How is mortgage eligibility calculated?
"An important metric that your mortgage lender uses to calculate the amount of money you can borrow is the DTI ratio, which compares your total monthly debts (for example, your mortgage payments, including insurance and property tax payments) to your monthly pretax income. Depending on your credit score, you may be qualified at a much higher ratio (up to a 50 DTI) , but generally, housing expenses shouldn't exceed 38 percent of your monthly income. For example, if your monthly mortgage payment, with taxes and insurance, is $1,710 a month and you have a monthly income of $4,500 before taxes, your DTI is 38 percent (1710 / 4500 = 0.38).
"You can also reverse the process to find what your housing budget should be by multiplying your income by 0.38. In the above example, that would allow a mortgage payment of $1,710 to achieve a 38 percent DTI (4,500 x 0.38 = 1710)."
Luckily, there are options out there that can offset expenses, increase mortgage approvability, and supplement home-buying funds (see "House of Cards" below).
Sidebar:
By the numbers
At the time of this article's writing, Redfin.com calculates the average time an Ocean County home spends on the market at 65 days, up from 43 days last year. Eight hundred twenty-six Ocean County homes were sold in 2022, contrasting 2021's 1,242 sales. According to Rocket Homes, 49 percentof properties were sold below asking price last month.
Sidebar:
House of cards: when the numbers don't work
The pioneer home
"When you expand your focus areas and think innovatively, you might be able to get a good deal," says Duvi. "Look at Jackson, Manchester, and Toms River. Look at Howell—it's on fire! These neighborhoods all started with a handful of hesitant people who were brave enough to take the plunge. If you find a couple of friends to move with you, you can live almost anywhere. Chances are that in a year from now, you'll be hosting a RayzeIt campaign to build a shul and mikveh!"
Greener pastures
For those seeking an affordable area, real estate agents Miriam Cymet and Avigail Silberman, who are on Resa Shapiro's team at Home Smart, recommend Manchester's Pine Lake Park and Holly Oaks. With five shuls in Pine Lake Park, two shuls in Holly Oaks, a kosher store, a great crowd, and lots of greenery, people who live in both neighborhoods love it.
"We recently sold a number of houses in Manchester, and more keep going on the market. The area offers a wide range of home sizes and prices. Many small-to-average homes are being sold for $400,000–$500,000, while larger homes are going for $500,000–$700,000."
The fixer-upper
"Purchasing a home that needs lots of work is a good option only for some people. Keep in mind that although renovation loans exist, they can be hard to qualify for. It's not worth buying a house that's $50,000 cheaper than a similar one but needs $50,000 worth of repairs. If you don't get a renovation loan, the costs are 100 percent out of pocket," Shea points out.
First-time homebuyers' program
For the uninitiated, home buying can feel like a confusing and jargon-filled new world. Sarah Sternbach, director of social services at LRRC (Lakewood Resource and Referral Center), explains how the organization's first-time homebuyers' program educates and guides new purchasers.
"LRRC's four-hour online course describes the ins and outs of the home-buying process. After the course, members meet with housing managers who help them determine their budget and decide on the next steps. The counselors also refer qualifying buyers to both private and government programs that provide lower interest rates, lessen down payment minimums, don't require mortgage insurance, and even offer monetary assistance with down payments and closing costs."
Imperial Real Estate agent Yosie Jankelovits says, "Lakeland Bank has a great first-time homebuyers' package. If your income and buying area qualify, you can get a 4 percent interest rate and put down less than 20 percent without the need for mortgage insurance. With this plan, you can potentially save hundreds of dollars a month."
"Many of these special programs take longer than most mortgage brokers do, so it's important to start the process early on," Sarah points out.
But it's worth the wait. "The other day, a couple came into LRRC. They had just bought a new home and were disappointed to learn how much money they could have saved if they'd joined the homebuyers' program."
Sarah is passionate about spreading awareness of the first-time homebuyers' program. "Aside from the financial assistance, it allows people to go into the market with their eyes open."
Down payment aid
According to Fortune.com, state, county, and city down payment assistance programs can save qualified home buyers an average of $17,000.
Thearticle states, "The challenge here is ensuring those who qualify for assistance are aware that this help exists at all."
New credit score models
A family that pays their rent on time can likely pay their mortgage on time as well. Fortune magazine says that Fannie Mae and Freddie Mac "have given lenders the ability to consider positive rent payments in automated underwriting. These updates to underwriting criteria will impact millions of loans."
Increased loan limits
Michael Knopf of Draper Kramer Mortgage Corp shares that conforming loans and FHA loans—both of which offer lower-than-normal down payment and credit score minimums and higher debt-to-income ratios—are increasing their loan limits for 2023.
"This is great news because it means that two of the most popular types of mortgages are now (or will soon be) available for bigger loan amounts. Higher limits allow home buyers and homeowners to use these loans for larger home purchases and refinances, and home sellers can also benefit if these higher limits help buyers purchase their homes," Michael says.
Affordable housing
Several Lakewood-adjacent affordable housing projects are in the works. The Club at Jackson 21 is one such complex.
"The homes there are going for $450,000–$600,000, with prices increasing in $3,000 increments with every two units sold," says Yosie Jankelovits, who sells actively in Jackson. "The condos have three bedrooms and three stories. They're a great starter home solution but offer no opportunity for expansion. Many people prefer to buy a house and convert the garage, finish the basement, or expand when they have the funds to do so."
Mortgage programs
Ari Coopersmith shares several programs that can benefit potential home buyers.
Buydowns
Temporary mortgage rate buydowns are a home-affordability tool used to lower a home buyer's mortgage rate for the first two years (there is also a 3-2-1 option available). A temporary buydown can temporarily reduce the initial payment required from the borrower. This option may be beneficial for a borrower who anticipates an increase in their income in the future. The hope is that when the buydown is over, the homeowner is on better financial footing, or if rates improve during that period, they can refinance their loan at a better rate. The buydowns work in conjunction with seller concessions.
ARM
An adjustable-rate mortgage could mean a lower monthly payment for a while, but be sure you fully understand the risks.
As interest rates tick upward, it may be tempting for homebuyers to explore adjustable-rate mortgages. The appeal of an ARM, as it's called, can be the lower initial interest rate compared with a traditional 30-year fixed-rate mortgage. However, that rate can change down the road—and not necessarily in your favor.
There is a lot of variability in the specific terms as to how much the rates can go up and how quickly. No one can predict what rates will do, but one thing is clear: there is a whole lot more room on the upside than there is on the downside.
However, many borrowers buy a home with the plan to keep it for only a few years. For these borrowers, ARMs are highly economical when rates are higher.
Refinancing
It isn't safe to purchase based on the hope that you will be able to refinance. If you anticipate a hardship to pay your mortgage at current interest rates, it's probably not prudent to purchase. It may be likely that rates will go down, but you shouldn't buy a house on the assumption that you'll be able to refinance in the near future.